21st December 2021, Skopje – Funds have been provided for implementing Road Corridor 8 – Phase I. On Tuesday, Minister of Finance, Fatmir Besimi and EBRD Head of North Macedonia, Andi Aranitasi signed the Guarantee Agreement of the Republic of North Macedonia intended for financing road section along Corridor 8 (first phase), thus providing EUR 110 million for construction of Bukojchani – Kichevo section. In addition, Loan Agreement was signed by the Director of the Public Enterprise for State Roads, Ejup Rustemi and the EBRD Head of North Macedonia, Andi Aranitasi.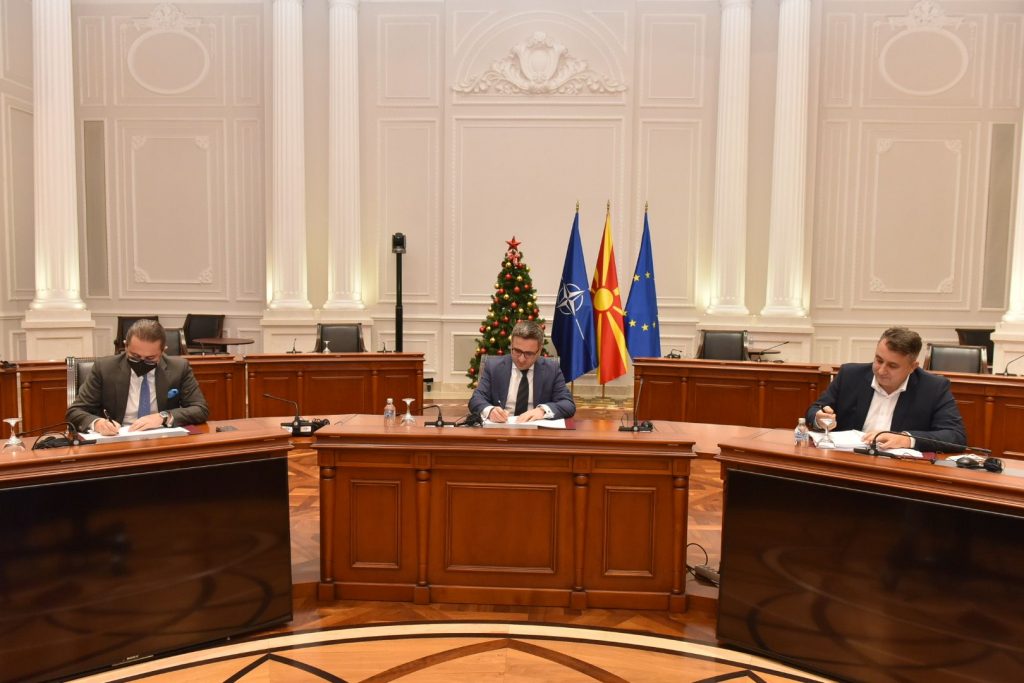 Total investment amount of Bukojchani – Kichevo section is around EUR 130 million, whereby EUR 110 million as EBRD loan, while the remaining EUR 20 million has been provided from the Western Balkans Investment Framework, as an investment grant.
"Corridor 8 is one of the strategic projects for our infrastructure, thus making our country more competitive. By constructing the road infrastructure along Corridor 8, construction of Pan-European Corridor in the Republic of North Macedonia will be completed, being significant for better connection of the Republic of North Macedonia, Albania and Bulgaria with the other European countries. This will provide for opening new markets for Macedonian companies, thus boosting their competitiveness an ensuring sustainable economic growth" – Besimi said at the signing ceremony.
Andir Aranitasi, EBRD Head of North Macedonia, said that EBRD has played a unique role in supporting the Macedonian road sector since 2001.
"The Bank has financed the construction and modernization of regional, local and Pan-European roads and provided policy dialogue to strengthen the country's institutions. With this new investment, we re-confirm our commitment to building better transport infrastructure in the country for the benefit of its citizens and business. Project will contribute toward increased participation of the private sector in operations and maintenance through tendering out a build-and-maintain contract, including addressing of the climate risks during the construction, operation and maintenance stages of the Project", as he said.
Director of the Public Enterprise for State Roads, Ejup Rustemi, pointed out that construction of highway section will provide for significant improvement of the mobility, the trade and the road safety, thus shortening the travel time and expanding the possibilities for social and economic development.
"State road A2, Gostivar – Kichevo section was designed over 50 years ago, being built as a single two-lane road, also including a third slow lane in certain parts of the mountain roads. However, due to the increased volume of traffic and insufficiently sound dynamic driving conditions, it is inevitable to upgrade this section to the level of a modern highway solution, thus providing for a fast, safe and uninterrupted international and domestic transport of passengers and goods," Rustemi said.
Moreover, for the purpose of providing funds for the road infrastructure along Corridor 8, around Denar 6 billion has been allocated from the 2022 State Budget, geared towards constructing Kjafasan – Struga – Trebenishte and Tetovo – Gostivar – Bukojchani sections along Corridor 8, as well as Prilep- Bitola highway section along Corridor 10.
Concluding contracts for Road Corridor 8 – Phase I, is part of the cooperation between Republic of North Macedonia and European Bank for Reconstruction and Development – EBRD, which, provided, throughout the years, substantial support throughout the process of accession of North Macedonia to the European Union, by extending loans under favorable terms and conditions, grants and technical assistance for preparation and implementation of major infrastructure projects.
Implementation of this Project is one of the Government's priorities within the pillar "Sustainable Infrastructure and Transition towards Green Economy".