30th May 2022, Skopje – "Sustaining Growth in Times of Uncertainty and Beyond" is the title of the Skopje Economic Finance Forum – SEFF, organized by the Ministry of Finance, to take place today and tomorrow in Skopje. Keynote speaker on Day 1 was the renowned Nobel Prize winner Paul Krugman. Prime Minister Dimitar Kovachevski opened the Conference, and the first panel discussion was dedicated to monetary and fiscal policies.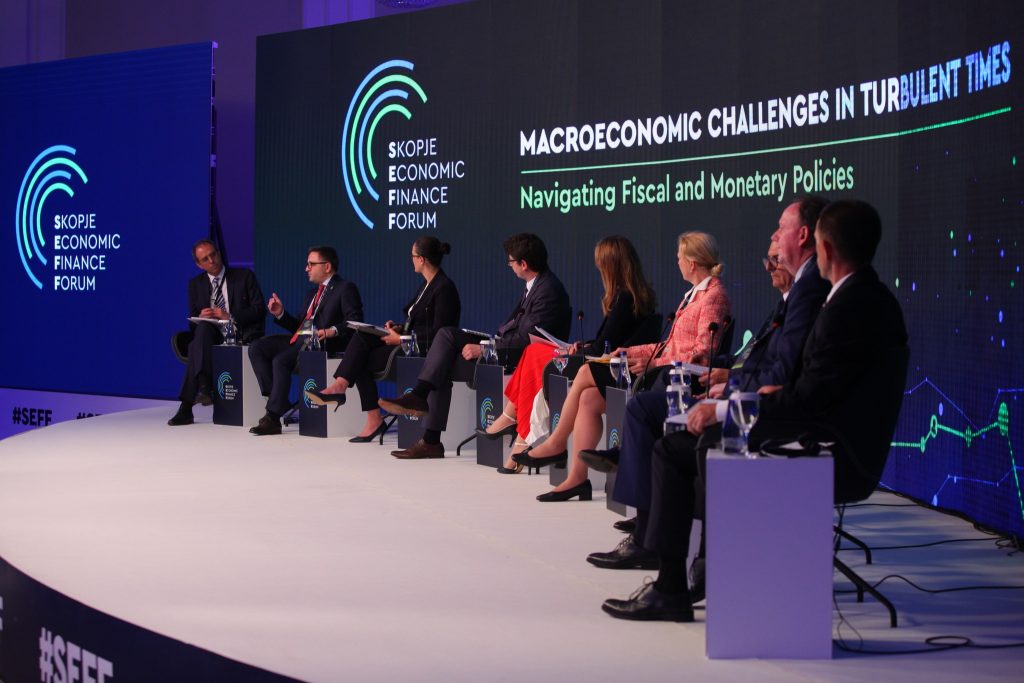 By building partnerships and strengthening mutual cooperation, Western Balkans economies can grow more resilient and more competitive. As pointed out during the Pillar 2 discussion – Resilience, Competitiveness and Economic Cooperation, improving the connectivity, cooperating on major infrastructure projects, especially in the area of energy, and creating sustainable supply chains, amid crisis, can greatly contribute to cushioning the crisis effects.
Keynote speakers were Susan Danger, CEO of AmCham Europe, and Mike Zafirovski, Zaf Group/Macedonia 2025. The panelists included representatives from Chambers of Commerce from the country and the region, among which Dragan Davitkov, AmCham North Macedonia, Petar Ivanov, AmCham Bulgaria, Elias Spirtounias, American – Hellenic Chamber of Commerce, Ivan Miletic, AmCham Serbia, Zivko Mukaetov, CEO of Alkaloid, Risto Janevski, Economic Chamber of North Macedonia, Trajan Angeloski, Union of Economic Chambers, Nebi Hoxha, Economic Chamber of North-West Macedonia, and Aneta Antova Pesheva, MASIT. Marjan Petreski, a university professor, was the moderator of the panel discussion.
Significance of initiatives, such as Open Balkan Initiative, was underlined, which would facilitate the movement of labour force, goods, services and capital. By connecting the markets, companies from the countries can have access to much more consumers and increase the scope of marketing their production. Moreover, facilitating the movement of goods can contribute to facilitating the supply chains, especially in times of crisis.
The panelists stressed the importance of foreign direct investments for the development of the economies by introducing fresh capital and transferring new technologies. Entry of industrial giants in the region is not only of significance for the country they invest in, but rather the region as a whole, by job creation and connecting with the local companies. What is of importance for the investors is for the governments to have sound regulations and consistent policies which they will believe in.
As regards boosting the competitiveness, government and companies can contribute a lot to its boosting, in particular through digitalization. Learning and applying new processes can contribute to creating greater production volume, as well as added value.