1st June 2022, Skopje – "Improving the process of measuring, monitoring and detecting informal economy, stimulating activities to formalize the informal economy, raising the awareness about informal economy and strengthening the tax morale, efficient inspection services, improving the legal regulations, as well as implementing measures of the Customs Administration, also addressing e-commerce products, are the 6 priorities targeted in the Action Plan on Eradicating Informal Economy of the Ministry of Finance, Minister Fatmir Besimi said at the "Informal Economy – Reasons, Challenges and Potential Solutions" webinar organized by the Department of Economics within Ss. Cyril and Methodious University (UKIM).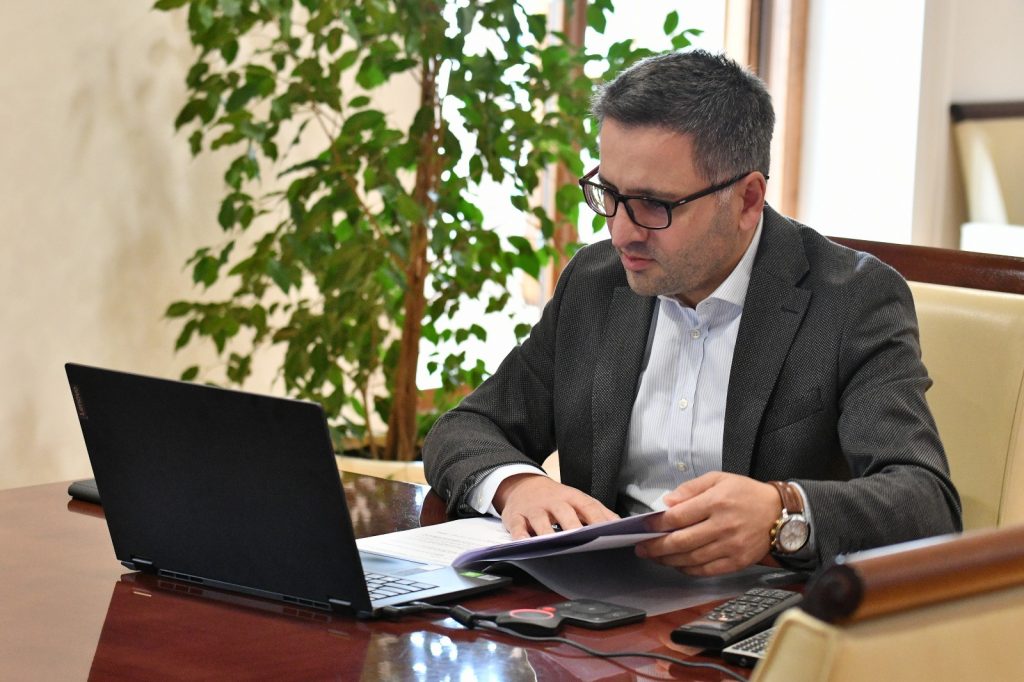 The Minister underlined that measures have already been undertaken, the realization of which targets specific priorities for reduction of the informal economy.
"Shift from the informal to the formal sector would reduce unfair competition, create conditions for equal competition among businesses, strengthen tax morale and lead to an increase in gross domestic product. This speaks in favour of the importance of taking urgent measures and actions to combat the informal economy", Besimi pointed out.
As regards the crucial measures, the Minister talked about the prepared Study on Determining the Key Reasons for Informal Economy, which also maps the needs for changes, gives recommendation for prevention, as well as indicators to measure the incidence of the informal economy.
"The Study itself is of key importance, considering that further steps, to be undertaken when coping with this phenomenon with adverse effects, will arise from the Strategy", Minister Besimi said, adding that, in the coming period, the Ministry of Finance and the other institutions will analyze, in more details, the recommendations given in the Study and will work on finding a way to efficiently implement them.
"Add Colour to Grey Economy" Campaign is implemented within the Action Plan. It was launched last year, and its goal is to raise the awareness about the consequences of unregistered economic activities on the quality of life of each and every citizen, as well as bring about their reduction. To that end, vnesiboja.mk website was also launched, giving the campaign an educational role. Thus, the citizens can now get informed about what informal economy is, how it can be recognized and what the consequences are if supported.
Dean of the Faculty of Economics, Predrag Trpeski, professors Borche Trenovski and Biljana Tashevska, Deputy Prime Minister in charge of Good Governance Policies, Slavica Grkovska, UNDP Deputy Resident Representative, Sanja Bojanic, PRO Director, Sanja Lukarevska, and Auditor general, Maksim Acevski, also took part in the webinar.