5th September 2022 – Fresh EUR 100 million investments in green transition of small- and medium-sized enterprises from EIB through the Development Bank of the Republic of North Macedonia, Gas Interconnector Greece-North Macedonia, Rail Corridor 8 sections, as well as other projects focusing on green economy, were discussed today at the meeting between Minister of Finance, Fatmir Besimi, and EIB representative for North Macedonia, Björn Gabriel. European Investment Bank is one of the leading international financiers of green economy, with its support for projects in the public sector in out country amounting to EUR 246.9 million. Fresh EUR 100 million for small- and medium-sized enterprises, as it was pointed out, is expected to be available by the end of this year.
Importance of ongoing and future projects financed by EIB, such as Wastewater Treatment Plant Skopje, third phase of Rail Corridor 8 towards Bulgaria, Rail Corridor 8 – Kichevo – Struga section, with the Bank expressing interest to be the lead financial institution to prepare the Project, was discussed during the meeting.
Minister Besimi pointed out that coping with the energy crisis is the highest priority at the moment, therefore in addition to the measures undertaken to mitigate its effects, investments in projects of permanent value are also important.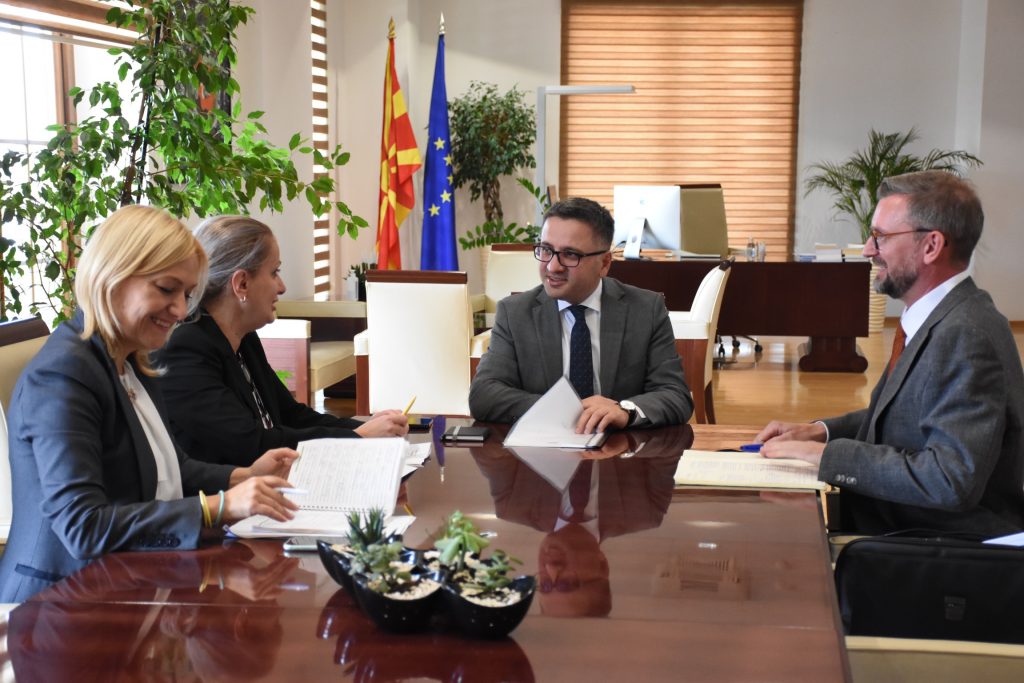 "The Government is dedicated to investments in green transition and changing the energy structure in the country, thus ensuring safety in supply of energy resources, focusing on renewable sources of energy. Implementation of the envisaged projects, financial resources for which have been provided, needs to be speeded up", Besimi underlined, adding that policies are to be designed to provide for our economy to be sustainable, modern and stronger than before.
EIB representative for North Macedonia, Björn Gabriel, confirmed the Bank's support in achieving our goals and reforms in line with the EU policies, also pointing out that, in the coming period, the Bank is ready to consider the possibility for direct support of the private sector companies.
Since 1991, EIB has supported our economy investing more than 1 billion euros in development of vital infrastructure projects and small- and medium-sized enterprises.