Skopje, 30th June 2014 (MIA) – Macedonian Prime Minister, Nikola Gruevski, met Japanese Crown Prince Naruhito on Monday, thus commencing the official visit of the Macedonian Government delegation to the Empire of Japan.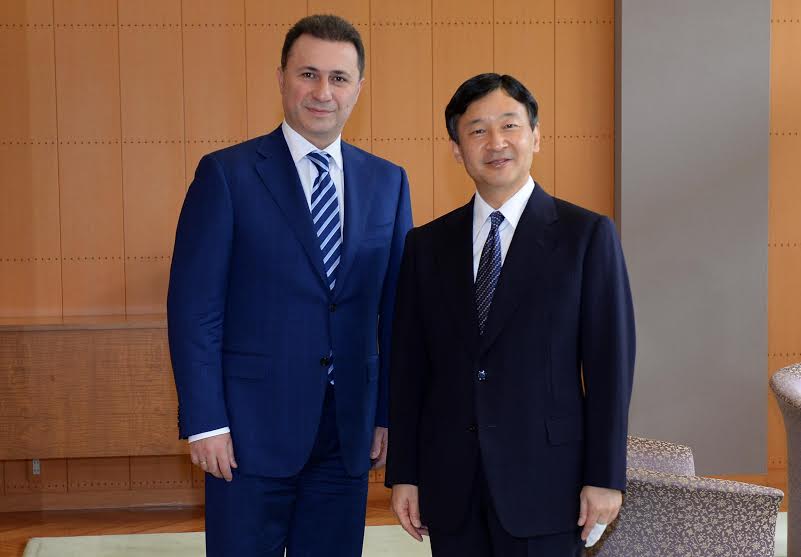 – Interlocutors have positively assessed the political relations between the two countries, underlining the positive bilateral and multilateral cooperation. Continuous high-level political dialogue between the two countries and the upward trend of developing the bilateral relations have also been assessed positively, Government Press Office announced following the meeting.
Prime Minister Gruevski and Crown Prince Naruhito emphasized the importance of strengthening and intensifying the economic cooperation, trade and cooperation in the area of investments, being underpinned by political support.
Gruevski pointed out the political priorities in an international context and informed him about the favourable conditions and advantages Macedonia offers to the foreign investors to open facilities and do business. He also emphasized the intention of the Macedonian Government to attract Japanese investors and companies which plan to expand their business in Europe.
As Prime Minister Gruevski said, he met Crown Prince Naruhito, who is exceptionally influential person in Japan, for the second time, and they exchanged information on the political and the economic cooperation between Macedonia and Japan and the possibilities for its intensification, in particular in the economic area.
– Having in mind that he is a person who is in constant communication with the highest-level political and economic authorities in Japan, it has been very important to inform him, in details, about the doing business in Macedonia, the political momentum and our future steps in the political area, i.e. the European and the EuroAtlantic integrations, as well as in the economic area as regards the excellent business climate we have created and the conditions for doing business for both the domestic and the foreign companies, Prime Minister Gruevski stated following the meeting.
They have also discussed about boosting the cooperation in the area of education, health and culture, as well as in all other areas of common interest.
The Prime Minister mew with the Crown Prince Naruhito in the eve of the presentation of the investment opportunities in Macedonia before a large number of Japanese companies and the meeting with the Prime Minister of Japan.
Deputy Prime Minister and Minister of Finance, Zoran Stavreski, Minister without Portfolio in charge of Attracting Foreign Direct Investments, Bill Pavleski, CEO of the Directorate for Technological Industrial Development Zones, Viktor Mizo and Government Spokesman, Aleksandar Gjorgjiev, are also part of the Government delegation to Japan.
Other destinations on the Asian continent to be visited by the Macedonian Government team, following the visit to Japan, are the Republic of Korea and People's Republic of China.
Also available in: