25th September 2021, Skopje – By becoming NATO's member and upon harmonizing the domestic legislation, Macedonian companies are now given the opportunity to take part in the procurement procedures for the needs of NATO and its Member States, which total value exceeds 5 billion per year, being governed by NATO Support and Procurement Agency, as pointed out at today's press conference attended by Prime Minister Zoran Zaev, Minister of Defense Radmila Shekerinska and Deputy Minister of Finance Dimitar Kovachevski, at the occasion of promoting the NATO Company Support Center.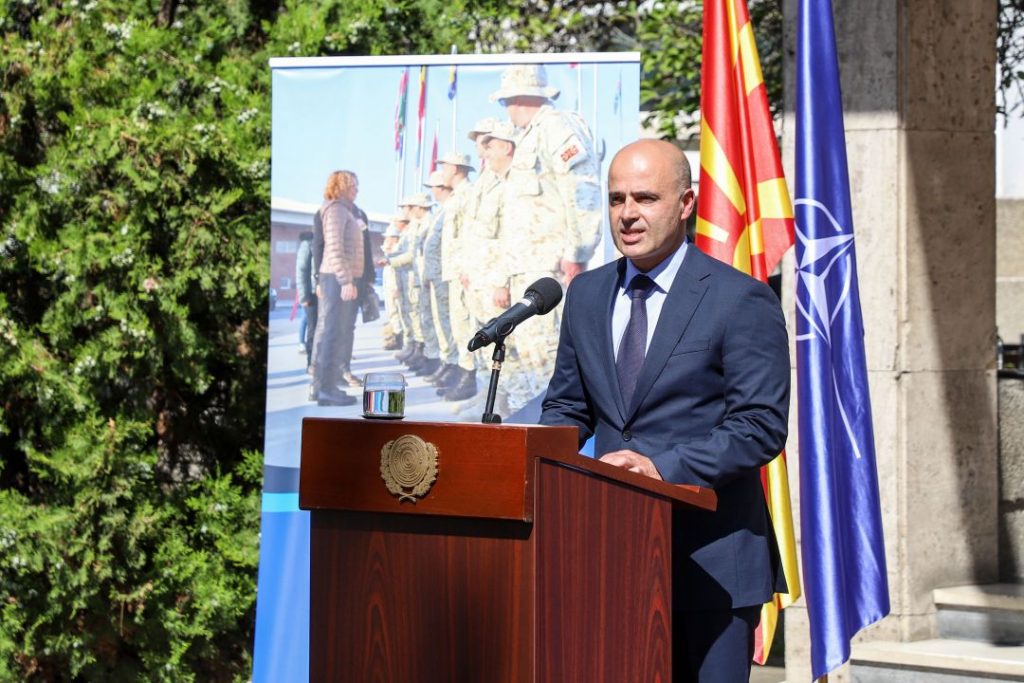 Prime Minister Zaev stressed that the Government took the first steps to help our companies participate in NATO procurement procedures, and that in addition to ensuring our future security, a number of other opportunities have also been provided, which will bring immediate benefits to our economy, companies and citizens.
"We want to assure businessmen, chambers of commerce and all other business associations that NATO Company Support Center is not just another bureaucratic link in the process, but a trusted partner with all the information and knowledge to facilitate the procedure and help you establish whether you meet the requirements to participate in NATO procurement in order to become a business partner of the largest military alliance in the world", Prime Minister Zaev.
There is potential for additional boosting of our entire economy, Prime Minister pointed out, since there is a wide range of NATO needs for which procurement procedures are announced, whereby, plenty of companies offer such products or services upon competitive prices for considerable portion of those needs.
Prime Minister Zaev stressed that huge opportunities are to be also unlocked for the IT companies, in terms of them being contractors or subcontractors of software and other computer solutions for companies such as Airbus Defense and Space, Atos Belgium, IBM Belgium, Vector Synergy and other IT giants.
"By becoming part of the Euro-Atlantic family, all its Member States accept the Republic of North Macedonia as a reliable and dignified partner in the most powerful military-security alliance in the world, as well as in terms of economic cooperation in support of the Alliance mission", Prime Minister Zoran Zaev said during his address at the press conference aimed at promoting NATO Company Support Center.
Minister of Defense Radmila Shekerinska emphasized that the NATO Company Support Center has already been established in the Ministry of Defense and urged the companies to accept the challenge and participate in the procurement tenders for the Alliance's needs.
"This is a really competitive market that should not be an obstacle for us, on the contrary, it should serve as additional motivation for us to be better, more efficient and of better quality" – Minister Shekerinska said.
Shekerinska underlined that the support would be substantial and comprehensive, encouraging domestic companies to enter the records of economic operators and to obtain confirmation of the fulfilment of the requirements for participation in NATO procurement procedures.
"Through the Company Support Center, we will help companies first register with NATO agencies and then gain access to the announced tenders. "The Center will help transfer the lessons learned for successful tender applications, as well as for connecting Macedonian companies with world giants that already have active contracts with NATO agencies and need suppliers", Minister said, adding that the registration process is simple, and all information can be found on the website of the Ministry (Company Support Center).
Deputy Minister of Finance, Dimitar Kovachevski pointed out that NATO membership provides for safety and political security, as well as financial stability and economic prosperity. "Data demonstrate that economic growth in the countries is picking up by 2 percentage points in average, when comparing the 5-year period before and after their NATO integration. By becoming NATO member, safety, political and economic conditions of the Republic of North Macedonia have been improved. Hence, obligations stemming from NATO membership are given the priority as regards the Government policies", Kovachevski underlined.