2nd January 2020, Skopje – Execution of capital expenditures in 2019 Budget accounted for 78% in relation to the projections. In absolute terms, capital expenditures amounted to Denar 17.8 billion, being by Denar 5.7 billion more, i.e. by 46.6% more, compared to 2018, Minister of Finance, Nina Angelovska, said when presenting the initial data on 2019 Budget execution.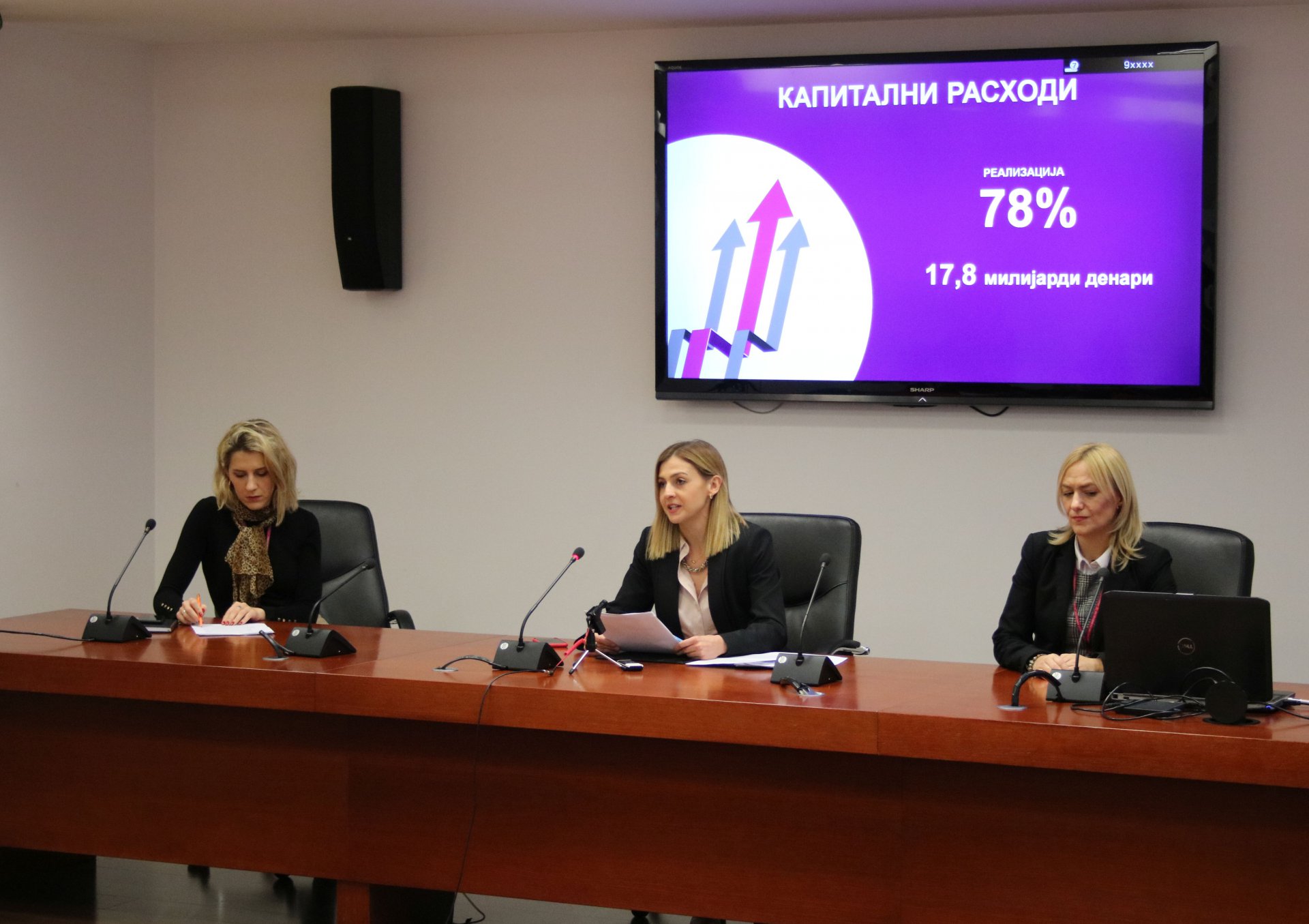 As pointed out, execution of capital expenditures in December was exceptionally good, i.e. Denar 6.7 billion, including procurement of light armored vehicles for the needs of NATO membership, gasification, purchase of AD GAMA shares, inverters, Ohrid sewage system.
-I would underline that we should continue working on improving capital expenditure execution. One of the manners to act so is fiscal transparency. When the fiscal transparency tool was published, making it available for the public to track the performance of the budget users, better budget execution was immediately observed at almost all budget users. When planning this year's Budget, while determining the amount as regards the capital projects, track record of budget users, i.e. previous performance of capital projects, was taken into account. On the long run, better execution of capital expenditures will be provided by strengthening medium-term budget planning, as well as by introducing an integrated public finance management system, envisaged in the new Budget Law, Angelovska said.
As budget users with the best performance of capital investments as percentage of the projected amount, as well as in absolute terms, she pointed out the Ministry of Transport and Communications with Denar 3.4 billion, accounting for 85.4% of the projections, the Government with Denar 2.9 billion, accounting for 98.9%, the Ministry of Defence with Denar 1.2 billion, accounting for 81.3%, the Ministry of Internal Affairs with Denar 931 million, accounting for 92.2%, the Ministry of Finance with Denar 908 million, accounting for 87.9%, and the Agency for Financial Support of Agriculture and Rural Development with Denar 781 million, accounting for 99.7% of the projections.
Angelovska said that budget revenues were collected in the amount of Denar 203.9 billion, accounting for 97% of the projections, increasing by 8.2% compared to 2018. With respect to total revenues, tax revenues and contributions were collected in the amount of Denar 178.9 billion or 97.2%, being an increase of 4.6% compared to 2018. Collected contributions accounted for 101.2% of the projections, while VAT revenues were collected as projected, i.e. 100%, or Denar 52.1 billion in absolute terms, being by 5.7% higher compared to the previous year.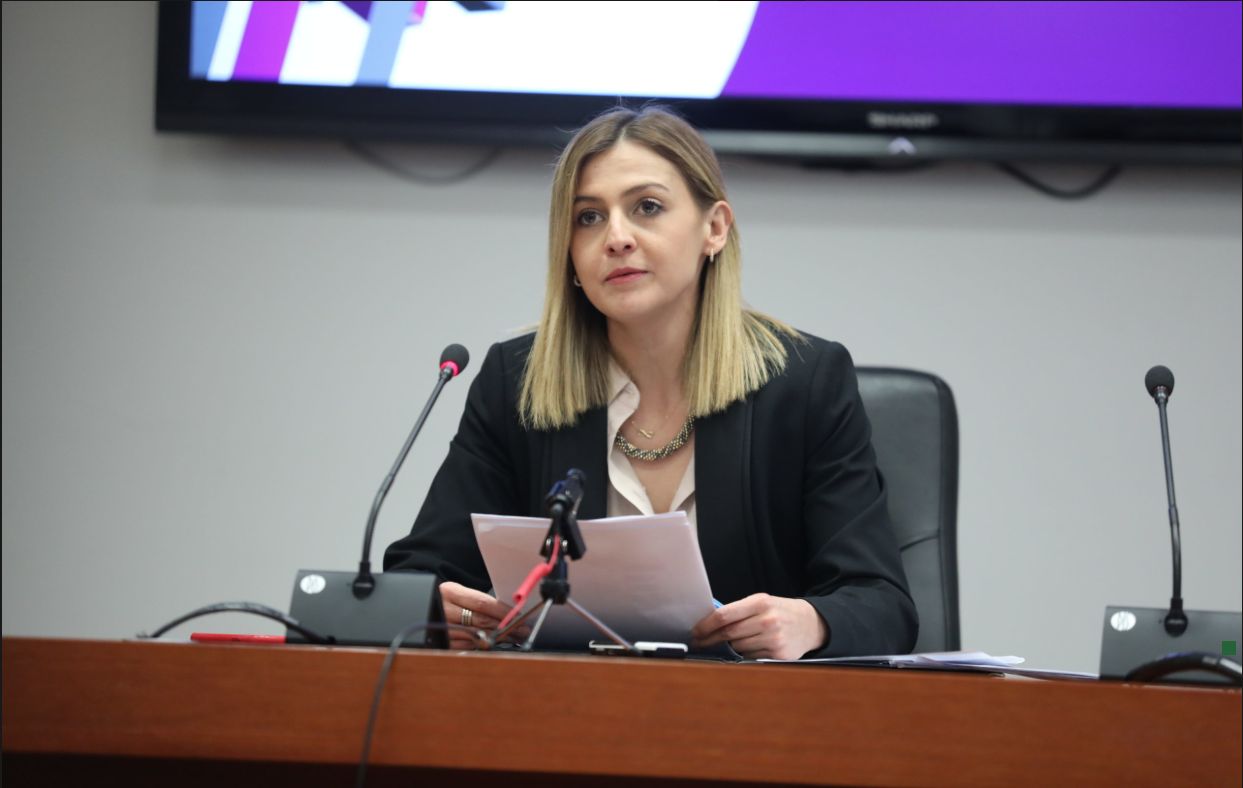 Total expenditures in 2019 were executed in the amount of Denar 217.6 billion (EUR 3.5 billion) or 95.3% of the budget projections. Angelovska underlined that the funds were used for regular servicing of the liabilities of the state, such as payment of wages and pensions, social transfers, subsidies, block grants to the municipalities, etc.
2019 budget deficit amounted to Denar 13.6 billion, accounting for 1.95% of the 2019 projected GDP. Domestic and foreign borrowing was also used for deficit financing and debt repayment, i.e. net issuance on the domestic government securities market in the amount of EUR 148.7 million, World Bank DPL Loan in the amount of EUR 125 million, as well as part of the deposit transferred from the previous fiscal year.
Minister of Finance pointed out that the economy was in good condition, experiencing 3.6% growth in the first three quarters in 2019.
-This is a broad-based growth, i.e. growth is observed in both the Construction and the Industry – 5.6% growth from the beginning of the year as of the third quarter inclusive, Agriculture – 4.2% growth, Gross Investments – 5.3% growth, Consumption – 3.8% growth and Export – 12.2% growth as of the third quarter inclusive, Angelovska said, underlining that employment continued to increase, hence 40,000 persons more were employed in the third quarter in 2019 in relation to the same quarter in 2018.
Average wage, according to the recent data from the State Statistical Office, amounted to Denar 27,726 in October, being an annual increase of 3.7%, Angelovska said.