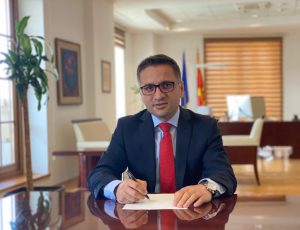 Fatmir Besimi graduated from the Faculty of Economics at Ss. Cyril and Methodious University, Skopje, Economics Division, Department of Finance and Banking, in 1988. He completed his post-graduate studies from Staffordshire University in the United Kingdom in 2002, and gained his Ph.D. degree from the same University, Ph.D. thesis "Monetary and Exchange Rate Policy in the Republic of Macedonia during the Process of Accession to the European Union" in 2007.
During the educational process, Besimi completed many professional courses and trainings, among which the following: "Transformational Leadership" at Oxford University, "Foundations for Leadership of the 21st Century: Values" at the Institute for Global Affairs, Yale University, "Global Leadership and Public Policy for the 21st Century", at the Kennedy School of Government, Harvard University, "The Sustainable Development Leadership Programme", World Bank, University of Cambridge and PricewaterhouseCoopers
He was appointed at many public and government offices. He was appointed as Deputy Prime Minister in charge for European Affairs in the Government for two terms of office – from March 2013 to May 2014 and from June 2014 to March 2016. He was also appointed as Minister of Economy for two terms of office from August 2008 to July 2011. He was appointed as Director of the Public Enterprise for Airport Services from November 2002 to August 2003.
He was also assigned other governmental responsibilities as Co-chairman of the Council for Economic Growth and Sustainable Development within the Prime Minister's Office and the Government from August 2017 to May 2019, Special Advisor to the Prime Minister in the period from August 2017 to April 2019, Co-chairman of the National Investment Committee, National IPA Coordinator, Coordinator for the Instrument for Pre-Accession Assistance and Bilateral Financial Support on National Level as Deputy Prime Minister for EU Affairs, and as a member of the National Security Council as Minister of Defense.
Besimi has extensive career backgrounds in the field of the banking sector as well. He performed the function of Vice Governor of the National Bank from August 2003 until November 2004. He worked as an Economist at the World Bank Office in Kosovo in the period November 2007 – July 2008, and as a Researcher at the National Bank of the Republic of Macedonia in the period May 2001 – October 2002. Previously, he was a Professional Associate in Stopanska Banka a.d. Skopje.
As regard his academic engagements and teaching career, Besimi is an Associate Professor at the Faculty of Business and Economics within the South-East European University, as well as a Visiting Senior Fellow (Associate Professor) at the London School of Economics and Political Science, European Institute.
He held a number of international lectures at world-renowned universities, such as Webster University in Geneva, London School of Economics and Political Science, Vienna Diplomatic Academy, European Policy Centre in Brussels, Institute for International and European Affairs in Dublin, Johns Hopkins University in Baltimore, Maryland, Harvard Kennedy School at Harvard University, Georgetown University, National Defense University in Washington, University of Vermont and the Military Academy in Zagreb.
He is author of two books, and co-author of several other books. He has published over a hundred scientific and professional papers and he also took part in numerous international scientific conferences.
He was engaged as consultant by international financial institutions, such as the World Bank and UNDP, for doing analyses and at projects in the country, Europe and Central Asia.
He managed many projects and initiatives related to the public sector, economy, finance, energy, etc. He has won several awards and certificates of acknowledgment, including the "Order of the Star of Italy – Grand Officer" Award under a decision by the President of Italy for his contribution to the improvement of the bilateral relations between the two countries during the Italian Presidency of the EU Council. He is an honorary member of "Young Global Leaders for 2010", as well as a member of "European Future Leaders".
He speaks Albanian, Macedonian, English and Croatian and has a basic knowledge of German.
He is married to Albertina and he is a father of Aurela.