2nd May 2020, Skopje – From the beginning of the year, as of April inclusive, the VAT refund to companies amounted to EUR 145 million. It is higher by 16.7% compared to last year. VAT refund to companies amounted to EUR 38 million in April alone, or by 23% more compared to the same month last year.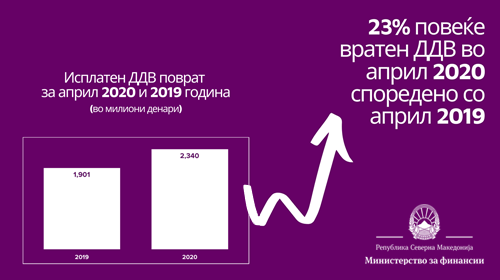 In relation to 2018, VAT refund was higher by 19.4% in the January-April period, while compared to 2017, it increased by 67.6%.
Minister of Finance Nina Angelovska stressed that amid the greatest health and economic crisis, preserving the liquidity of the economy is of crucial importance. Swift VAT refund is one of the regular activities undertaken to that end.
Measures, which the Government adopted under the two set of antic-crisis measures, such as the interest-free credit lines "Covid 1" and "Covid 2" of the Development Bank of North Macedonia, in the total amount of EUR 13.7 million, also contributed to boosting the liquidity of companies, being of great significance since micro-, small- and medium-sized enterprises are targeted thereby. Favourable loans in the amount of EUR 51 million will be soon made available through the commercial banks.
This also includes the measure for deferral of both profit tax advance payments for companies and personal income tax advance payments for persons performing independent activity. As regards the measure for financial support of Denar 14,500 per employee for April and May, the amount of which is estimated at around EUR 100 million, in addition to the basic purpose for payment of wages and preserving the jobs, it is also additional massive liquidity injection in the economy.