Deputy Prime Minister of the Government in charge of economic affairs, coordination of the economic departments and investments, Fatmir Bytyqi and Minister of Finance, Fatmir Besimi chaired, today, the first plenary economic and business session titled "On the Road to a Better Connected and Integrated Region – What is at Stake? How do we get there?", being held within Prespa Forum Dialogue".
During the first part of this session, in addition to Deputy Prime Minister Bytyqi and Minister Besimi, attendees involved in the respective discussions were Deputy Assistant Secretary in the Bureau of European and Eurasian Affairs with responsibility for the Western Balkans and the Aegean at U.S. Department of State, Matthew Palmer, Minister of Economy of the Republic of Kosovo, Artane Rizvanolli, Secretary General of the Regional Cooperation Council, Majlinda Bregu, Deputy President of the Chamber of Commerce of North-West Macedonia, Nebi Nodza, as well as the Executive Director of the Economic Chamber of North Macedonia, Antoni Pesev.
By delivering opening speech, Deputy Prime Minister Bytyqi expressed his contentment for organizing such major and significant event, being a result of a constructive and open dialogue. He also pointed out that Prespa Agreement, concluded few years ago brought together, at today's Forum, all participants, from the Balkans, Europe and the world.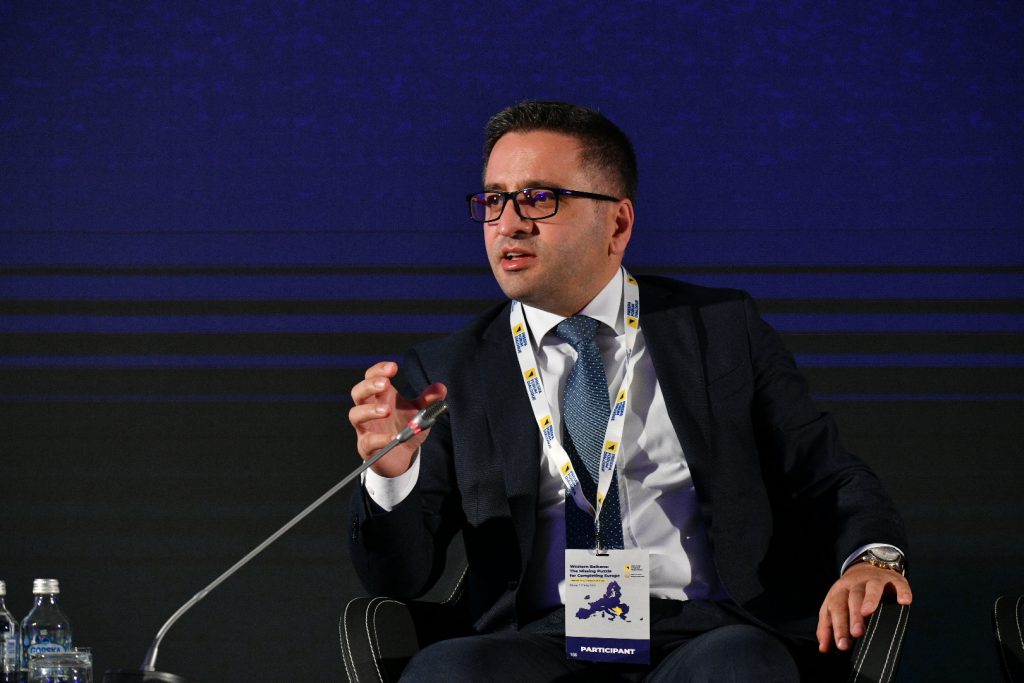 "It is the power of openness and mutual respect, which can only bring perspective and shared prosperity. This what we all are going to discuss today, that being the future of our region. Western Balkans region is usually characterized as comprising six or even eight or ten different countries. However, it can also be seen as a common region, with a common history, a similar economic structure and similar difficulties. COVID-19-induced pandemic demonstrated that no boundaries exist. Emigration, migration go beyond the borders of the Balkans or the EU. The global internet company Amazon is a serious competition to the traditional stores not only in Ljubljana, but also for those in Zagreb, Sarajevo, Podgorica, Belgrade, Tirana, Pristina and Skopje. Moreover, this regional connection is also significant in view of pollution reduction – Deputy Prime Minister said when delivering his speech.
He underlined that all countries are entering a period of recovery from COVID-19 pandemic, seeing this as the only chance to increase cooperation between countries in the region and work together to the end of intensified economic recovery and activities geared towards faster growth and development.
"Let put our maximum efforts to achieve a regional competitiveness rather than creating a regional competition. As long as we strive to creating a joint regional market, we are taking a step forwards towards the EU single market, which will provide for strengthening our economic integration. At the meeting of the Board of Directors of the Western Balkans 6 Chamber Investment Forum, the initiative as regards foreign direct investment subsidies for all Western Balkan countries was also mentioned, in terms of creating a strong regional value chain – which will improve our competitiveness much more than if each of us acts separately. " I believe the need for "near shoring" is a lesson learned from last year when we faced a pandemic and when distant Asian supply chains were not available," Bytyqi said, thereby also taking about the activities of the Government of the Republic of North Macedonia aimed at building high-quality infrastructure and thus boosted competitiveness.
"In the recently adopted Intervention Investment Plan, a budget of over EUR 2.7 billion has been projected geared towards the construction of new roads, reconstruction of the existing ones and modernization of the railway infrastructure. Completing all Pan-European corridors is one of the top priorities of our country. This, along with the development of green transport corridors is of essential significance for achieving the Common Regional Market goals. Separately, we are small countries with high aspirations, however, when united, we are a region with even greater prosperity and potential. Unity is the key to success", Deputy Prime Minister said.
Bytyqi expressed his strong belief that regional competitiveness will strengthen the resilience of the region, bring prosperity to its citizens, thus creating a stronger labor market, contributing to growth and a bright future for the economies, at the same time preparing them to enter the European Union large market.
"I do not want for today's conversation to be an one-way one, but rather an open dialogue so that we can exchange our visions and ideas, since today's event is not only beneficial for Fatmir from North Macedonia, but also for Dusan from Serbia, Arben from Albania, Sofija from Montenegro, Rozafa from Kosovo or Janis from Greece – this is devoted to all 18 million people in our region, so we need to talk about and create our future together, in which respect I look forward to a fruitful discussion," Deputy Prime Minister Fatmir Bytyqi said during his speech at the panel.
Minister of Finance, Fatmir Besimi underlined that joint actions and connection with the countries in the region may provide for a synergy in the results the Western Balkan countries want to achieve, i.e. economic growth and development and EU-oriented future.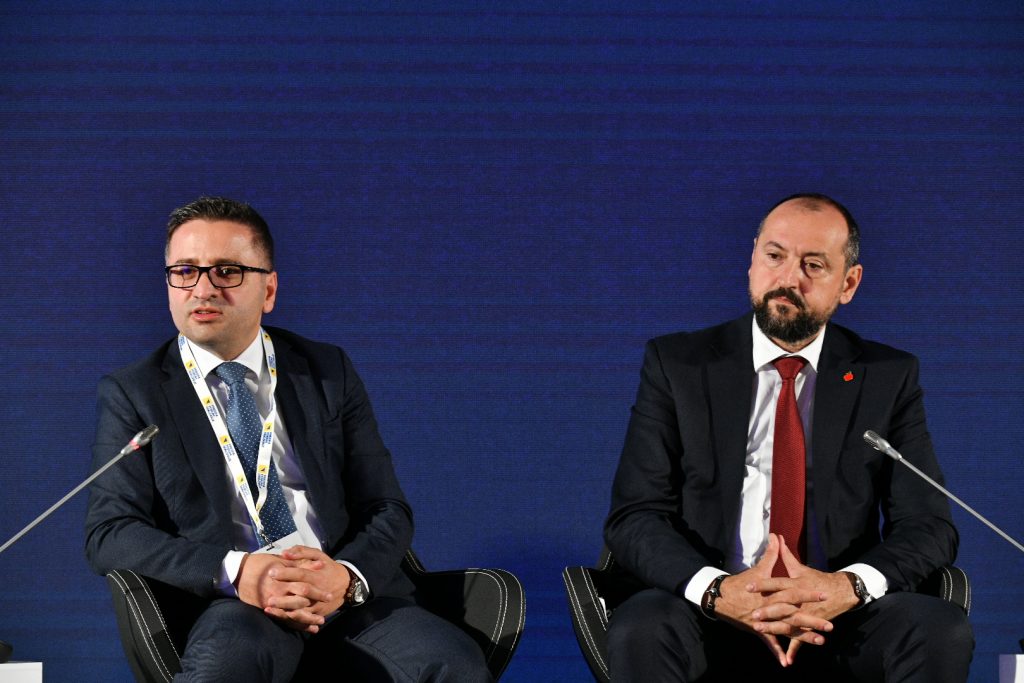 "Developments induced by COVID-19 pandemic best show how our societies and economies are connected and dependent on each other. Since the pandemic outbreak, by undertaking containment measures and disruption of the global supply chains, it was a matter of days for all the economies to register sharp decline of their economic activity. Decline recorded in some economies caused a decline of economic activity in all of them, no exceptions. During the crisis, unity-related awareness has strengthened globally. As regards the health sector, joint efforts were aimed at finding vaccines and measures to prevent the virus spread. As regards the economy, less developed economies adopted many plans and sets of support measures. The world has effectively responded to the crisis in a relatively short period. Cooperation between the governments in the region has strengthened by jointly monitoring the developments of the pandemic and undertaking coordinated activities. Moreover, in terms of economy, we have followed in the footsteps of each other in implementing anti-crisis measures to support both the economy and the citizens "- Besimi said.
Minister of Finance pointed out that are plenty of initiatives for regional networking, coupled by awareness for the benefits the regional integration bring. However, as he stressed, active and consistent work should be done in implementing the initiatives and the agreements for implementation of regional integrations.
In the recent years, many multilateral initiatives were launched, pertaining to economic connection of the Western Balkans countries, aimed at attaining the "four freedoms" on the Western Balkan countries, i.e. free movement of good, services, people and capital. Multi-Annual Action Plan for a Regional Economic Area – MAP RЕА has already yielded various benefits for the citizens of the Western Balkans, such as zero roaming costs for Western Balkans citizens, starting today. There is no doubt that the initiative exists. What is of crucial importance is consistency and commitment to implement it. The continuous support provides by our partner, the EU, geared towards the growth of our country is also significant, Minister of Finance, Fatmir Besimi said when delivering his speech.