15th October 2021, Skopje – Our country's planned projects in the energy sector, investments in public private partnerships, as well as adoption and implementation of the new Economic Recovery and Accelerated Growth Financing Plan, were the topics discussed at the meeting between Minister of Finance, Besimi and MoF representatives, with Olga Sclovscaia, Regional Head for Europe and Central Asia within the Multilateral Investment Guarantee Agency (MIGA), being held within the IMF/WB Annual Meetings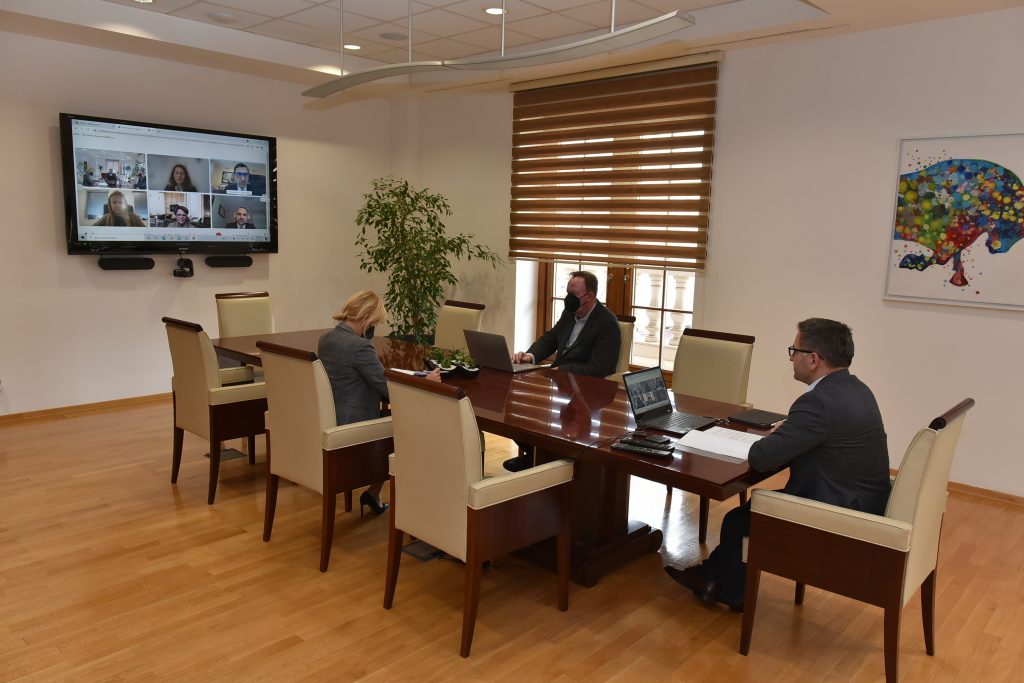 At the meeting Besimi stressed that the country has ambitious, but attainable energy transition plan. Several projects have been envisaged, such as interconnector gas pipeline with Republic of Greece, additional photovoltaic capacities, wind farms, all to the end of replacing the coal with other alternative energy sources. With respect thereto, it is necessary to identify the priorities of the projects, their dynamics, also covering the international support therefor.
What was stressed at the meeting was MIGA's opportunity to offer insurance for public-private partnership projects in the energy field, as well as solutions for improving the terms and conditions of the credit so as to finance projects requiring public financing.
MIGA is international organization for supporting foreign investments, founded as part of the World Bank Group, issuing insurance guarantees against commercial risks such as transfer of currencies, expropriation, breach of contractual provisions, military and social unrests, and similar. Activities, covered by the global investment insurance market are: capacity building of other public and private political risk insurance agencies via co-insurance and re-insurance, investment insurance in other countries, insurance policies by the agencies, as well as services for investors, having no access to official political risk instance agencies.
MIGA has already issued guarantees for many investment projects in the country: guarantees for the Company "Usje Cement Factory", "Procredit Bank", "Stopanska Banka", "NLB Banka", etc.
Priority goals of the Ministry of Finance were pointed out at the meeting, whereby the 2022-2026 Economic Recovery and Accelerated Growth Financing Plan was discussed, offering, among the other, detailed insight into the traditional and innovative manners of funding the public and private sector investment projects.