16th February 2022, Skopje – Martin Vickers, UK Prime Minister's Trade Envoy to the Western Balkans, paying visit to the Republic of North Macedonia, met Minister of Finance, Fatmir Besimi, with the focal point of the meeting put on the possibilities for British investments in major projects in the field of energy, infrastructure and environment.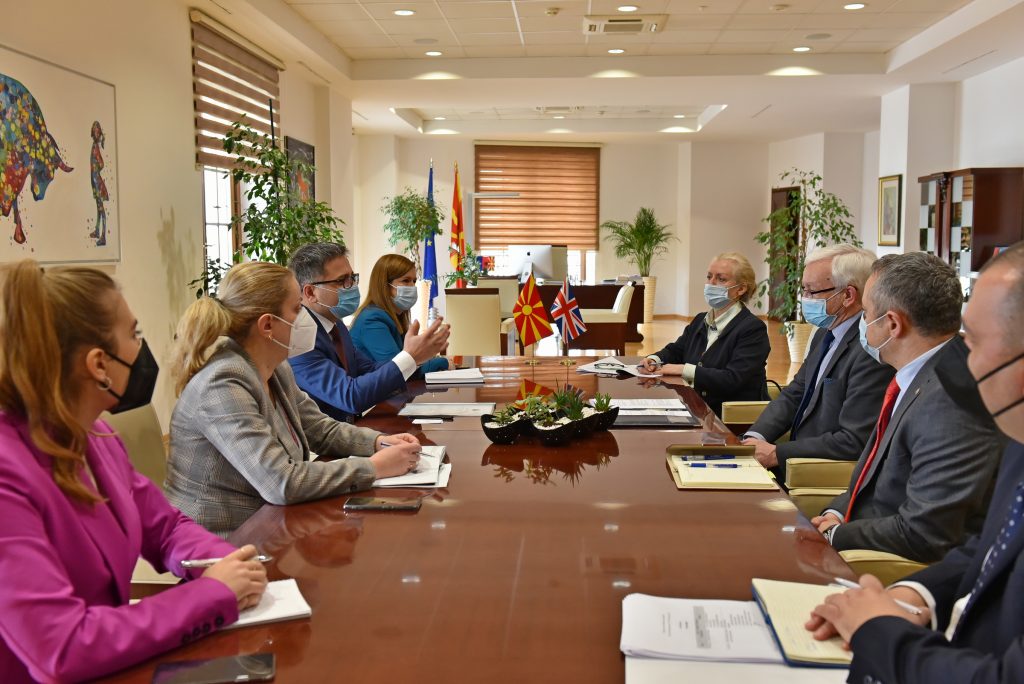 During the meeting, they talked about the interest of and the possibility for the British companies to provide grants, as well as appear as PPPs, as regards major projects ongoing in the country in the filed of energy sector, green energy and the Green Deal projects, rail infrastructure, focusing in particular on the regional connection in the rail transport. FDIs from British companies were addressed as well. Vickers also showed interest in the operations of the industrial zones in the country.
Minister Besimi presented the Growth Acceleration Plan and the Investment Plan (2022-2026) with EUR 8 billion projected investments, which could be of joint interest for both countries. The Plan envisages public and private investments, most of which in the field of energy, road and rail infrastructure, gas infrastructure, manufacturing, investments in public health, utilities infrastructure, treatment stations and waste separation, as well as investments in tourism. It is clear and decisive post-COVID step the Government undertakes to exit the pandemic crisis, thus paving the way of the Macedonian economy in keeping with the global trends for ensuring quality living conditions for each citizen and generating green energy.
UK allocates around £ 5 million annually for bilateral and regional projects. Program activities, among other things, focus on the economic prosperity of the country. UK are among the major trading partners of our country, positioned at the second place in the last three years, with total direct investments amounting to almost EUR 400 million in the period 2003-2020. Both countries have concluded Agreement on Avoidance of Double Taxation and Prevention of Fiscal Evasion with respect to Taxes on Income and on Capital Gains.
Martin Vickers was appointed Trade Envoy in October 2020, as one of the 31 trade envoys covering 69 countries to support Prime Minister Jonson's trade and investment agenda in global markets. His role is to commit to building on the existing, as well as establishing new relations in new areas, in particular green energy and the Green Deal, and the possible ways UK can support North Macedonia in this respective area.