11th May 2022, Skopje – In times when the global and European economies confront the ever greatest challenges over the past few decades, starting with the COVID-19 induced crisis, and followed by the energy crisis, the price pressures and the war in Ukraine, what we all must, particularly the developing economies as ours, remain committed to, is continuing the realization of the reform agenda and implementing the respective structural reforms. This was pointed out by Minister of Finance, Fatmir Besimi, in his virtual address at the EBRD Annual Meeting, held in Marrakech, Moroco.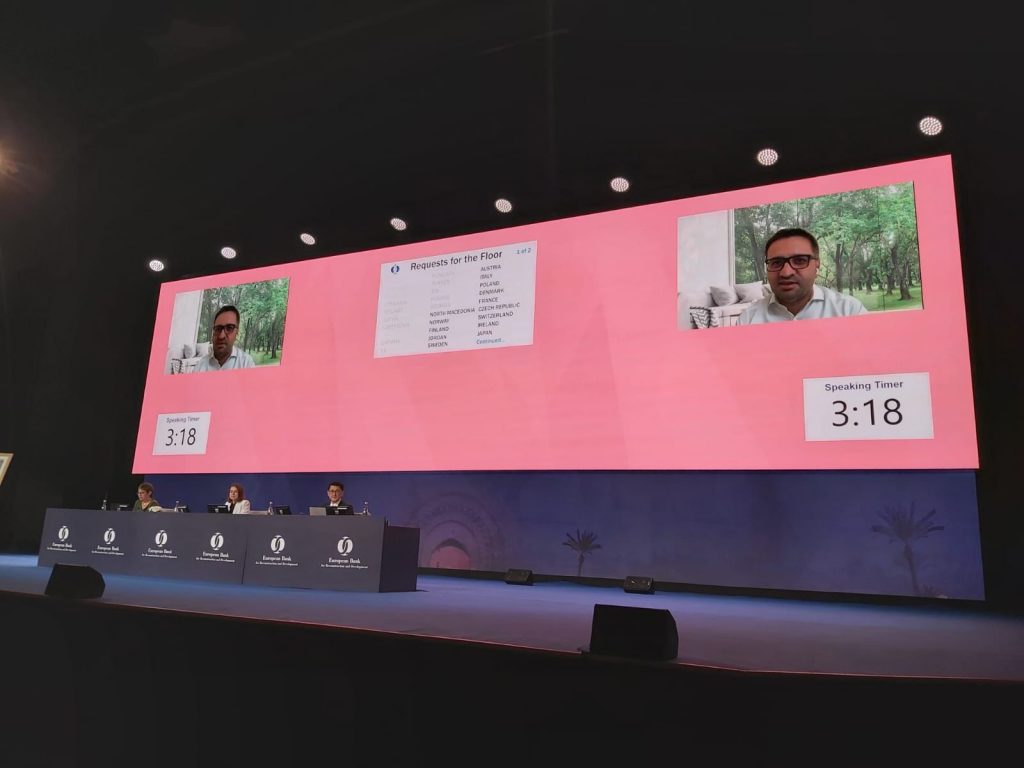 Thereby, Minister stressed that given the challenges the world faces, also including the climate changes, as serious threat to the society and the economy, "green projects", and orientation towards the green economy are top priority on our agenda. We are also committed to exploiting the benefits from the modern technology and digitalization, thus creating synergy and enhancing productivity.
To the end of boosting the economic growth of the Republic of North Macedonia and implementing the reform agenda, Minister underlined the importance of the Growth Acceleration Plan, as well as the support EBRD extends thereto.
"European Bank for Reconstruction and Development has been for almost three decades, since 1993, part of the process of building a modern, competitive and market-oriented economy, to which Republic of North Macedonia strives. With 158 approved projects, which have contributed and will contribute to boosting the competitiveness of our economy, connecting with the region and EU accession and the green transition, we can rightly so refer to EBRD as our long-term and dedicated development partner, Minister Besimi said.
As for public sector, EBRD support is aimed at making investments in the railway sector and the road infrastructure, the energy infrastructure, as well as modernizing the air navigation equipment, the public transport, and the wastewater treatment plants. With respect to the private sector, EBRD credit lines are aimed at boosting the competitiveness of small- and medium-sized enterprises, energy efficiency and renewable energy sources.
EBRD provides significant support to our country on its path to EU integration, whereby EBRD support is also focused on improving the investment climate, boosting the international trade, cooperating with the state-owned enterprises in the energy and infrastructure sectors, as well as enhancing the corporate governance thereof.
Minister also pointed out that EBRD support in our country, as well as the investments made around the world, contribute to changing the living conditions of millions of inhabitants and that we should remain committed to improving the life of citizens in future as well.