25th January 2023, Skopje – EUR 24.9 million has been provided for construction and implementation of the Integrated Financial Management Information System- IFMIS, one of the most extensive reforms in the field of public finance such as the State Aid Management Information System and the Integrated Tax Information System, implemented over the past years, as stipulated under the new Organic Budget Law. Funds have been provided via the Building Effective, Transparent and Accountable Public Financial Management Institutions Project, for which Agreements were signed today between the Minister of Finance, Fatmir Besimi and the World Bank Country Manager for North Macedonia and Kosovo, Massimiliano Paolucci, in the presence of the EU Ambassador David Geer and the Director of the Public Revenue Office, Sanja Lukarevska.
Under the signed Agreements, EUR 24.9 million has been provided, EUR 20 million out of which as World Bank loan and EUR 4.9 million as EU grant, aimed at realizing the Project.
IFMIS will provide for connecting the public finance systems to a single centralized digital platform, thus simplifying the establishment of a multi-year budget framework, public investment management, automated supervision over the liabilities, fixed asset management, debt management, as well as greater transparency.
"Improving public finance management and strengthening medium-term budget planning are one of the highest priorities of both the Ministry of Finance and the Government of the Republic of North Macedonia. "Therefore, it is crucial that new Integrated Financial Management Information System – IFMIS will be established under the Project, coupled with the establishment of both State Aid Management Information System – SAMIS, as a completely new State Aid Management Information System to be located in the Cabinet of the Deputy Prime Minister in charge of Economic Affairs, Coordination of Economic Sectors and Investments, as well as completely new PRO's Integrated Tax Information System (ITIS)", Minister said thereby adding that the establishment of the respective systems is part of Government's commitment to implementing advanced technologies, being also a precondition for a modern and advanced public finance management.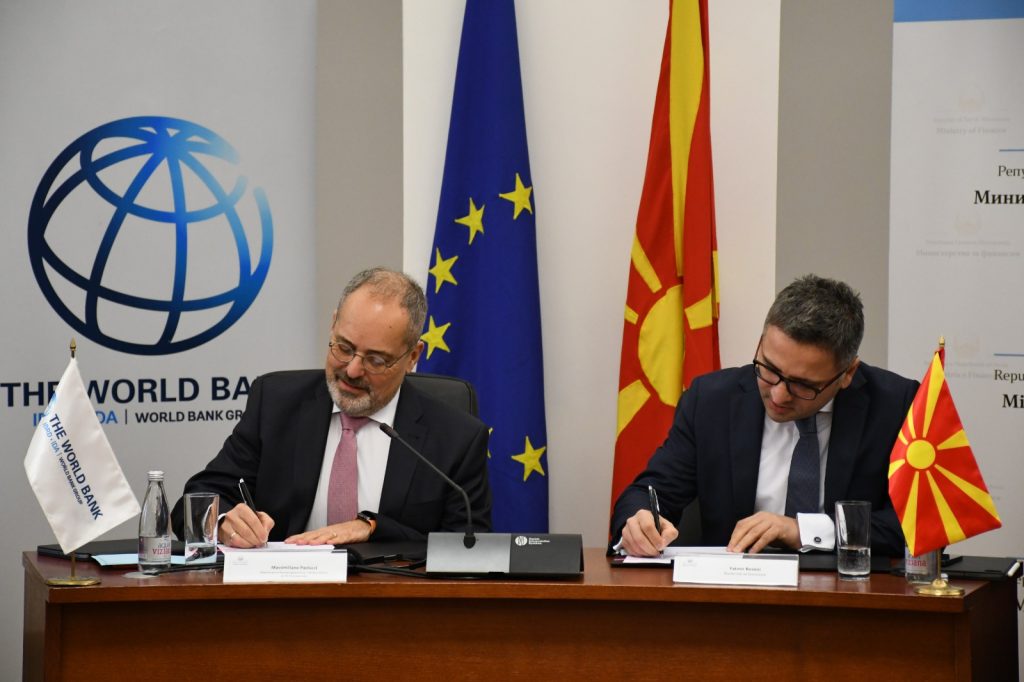 He stressed that establishment of IFMIS within Ministry of Finance is part of the major reform implemented in the past period, as regards public finance management, being incorporated in the new Organic Budget Law, which provided for setting fiscal rules consistent with the EU ones, thus leading to greater both predictability and accountability in implementing the fiscal policy.
"The ongoing World Bank Country Partnership Framework for North Macedonia identifies strengthening fiscal and public finance management as a key objective and the project we signed today will pursue a comprehensive approach to strengthening both the expenditure and revenue sides of the public financial management cycle that takes into account both fiscal and climate change sustainability", Massimiliano Paolucci, World Bank Country Manager for North Macedonia and Kosovo pointed out.
He went on that the envisioned project activities will lead to decrease of government arears, more comprehensive government reporting on budget preparation and execution, integration of climate change considerations into project screening and reduction of VAT compliance gap.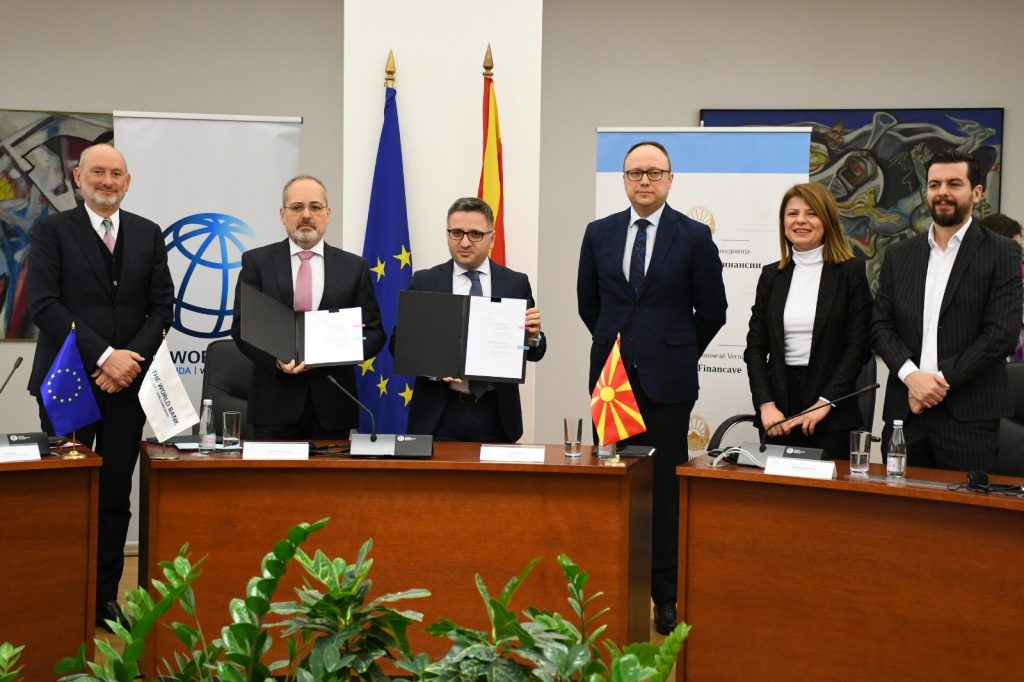 EU Ambassador David Geer emphasized that the digitalization of public finances will help promote transparency, efficiency and accountability in public finance management and lead to the delivery of more efficient services for citizens.
Director of PRO Sanja Lukarevska pointed out that digitalization of services rendered to taxpayers will allow companies to save both time and costs, thus leading to increased tax collection, as well as reduced informal economy, which helps formal businesses to increase their income through free, effective and fair competition.
"Thanks to these funds, the Public Revenue Authority will have in place a modern database, Disaster Recovery Center, advanced information management structure, thereby pursuing innovative approaches in attaining tax compliance, as well as improving the revenue management effectiveness," Lukarevska said.