28th April 2020, Skopje – Minister of Finance Nina Angelovska, one of the first 7 e-Trade for Women Advocates in the world selected by UNCTAD (U.N. body dealing with trade, investments and development issues), took part in the high-level panel discussions at UNCTAD e-Commerce Week today. This is a leading forum for ministers, senior government officials, chief executive directors, international organizations, development banks, academics and civil society to discuss development possibilities and challenges related to digital economy. This year it is held virtually due to COVID-19.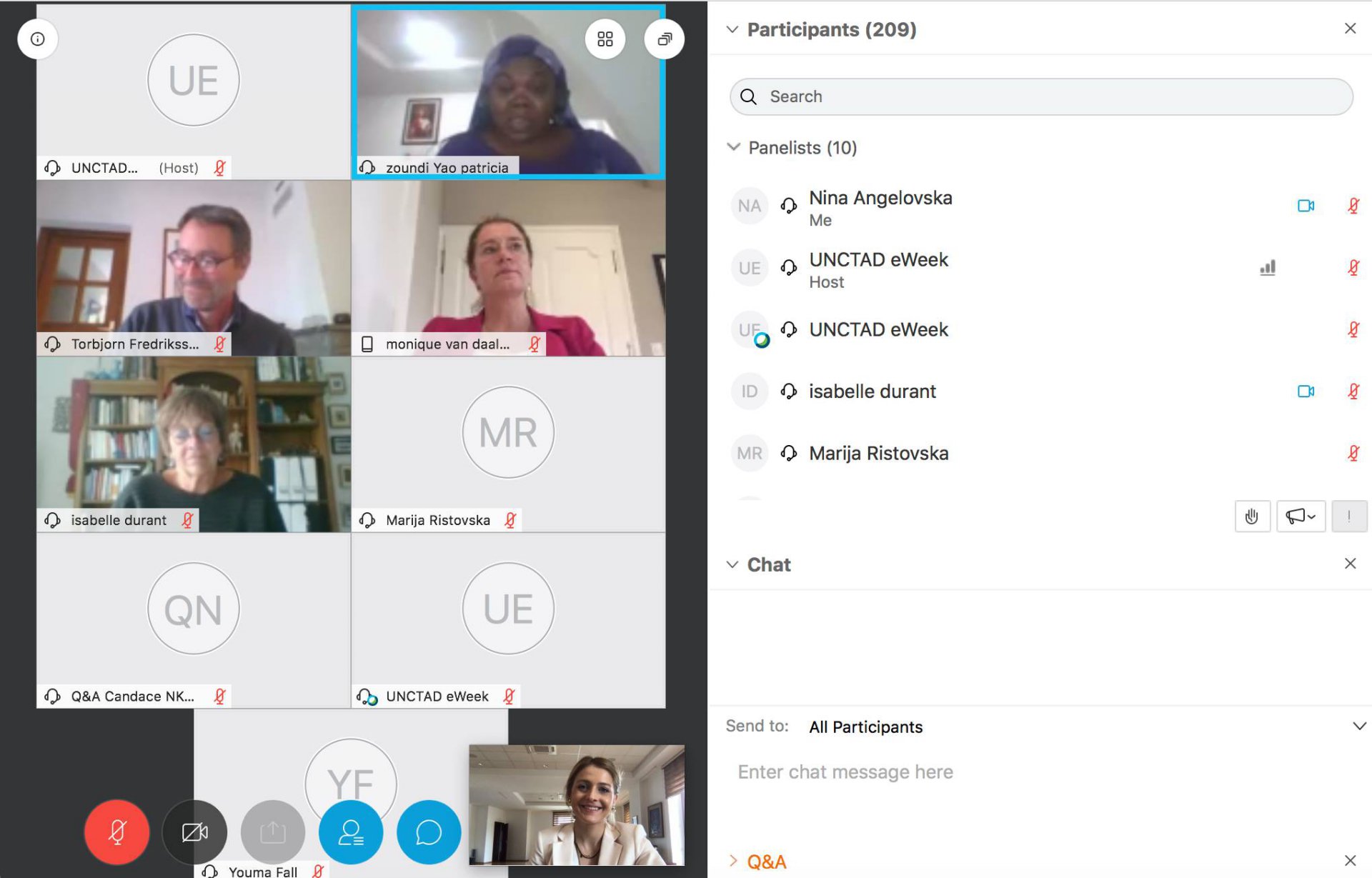 Many topics are addressed within the forum, such as: digital "real-time" economies; how to protect consumers and what efforts competition authorities are undertaking to mitigate the negative effects of the pandemic; innovations, data ownership and intellectual property; role of cybersecurity and privacy in digital and e-Commerce space.
Minister of Finance participated in the panel discussion "Empowering women digital entrepreneurs for resilient economies" together with UNCTAD Deputy Secretary – General, Isabelle Durant, Ambassador and Permanent Representative of The Netherlands to the UN, Monique van Daalen, e-Commerce Ambassador, founder and CEO of Quickcash, Patricia Zoundi Yao, PayDuyna co-founder, Youma Dieng Fall, and representative from the Macedonian e-Commerce Association, Marija Ristovska.
Digitalization is creating new possibilities for women in the developing countries. However, this potential is still not fully exploited due to reasons deriving from gender biases, lack of representation, unequal access to Internet and limited digital skills, etc.
In her address, Finance Minister Angelovska pointed out that digitalization gets a new perspective at a time of pandemic and global health and economic crisis.
– Restrictive measures aimed at protecting the health of our citizens are also coupled with measures the purpose of which is to facilitate the operations and the new ways of carrying out the operations – e-invoices, e-documents, etc. Number of online stores opened in the course of March is almost the same as the number of newly opened online stores throughout 2019. Online stores for groceries have 8-10 times higher sale now … there is no doubt that now is the right time for digital economy and e-commerce to show their potential. Habits will change, use of payment cards and e-banking will increase, talks are underway to encourage FinTech, to stimulate cashless payments, etc. I believe it is clear that the world will not be the same after the pandemic – once life starts to get back to normal. If we used to say that the world changes faster than ever due to the technologies, I believe this crisis will now even further accelerate such fast pace of change, Angelovska said.
She underlined that it was on the governments, the entrepreneurs, the women from all around the world – if and how the world would become better and smarter place after the Coronavirus crisis, adding that the companies would change their process, their business models, some supply chains would be reconstructed.
-The recovery phase will commence soon – I would like to convey the message that the role of both women and transformation entrepreneurship during the recovery phase will be greater than ever before, Angelovska said.
e-Trade for Women is an initiative led by UNCTAD, supported by the Government of The Netherlands. Its aim is to inspire, support, connect and allow the women digital entrepreneurs in the developing countries make their voices heard, thus making them a force for inclusive wealth creation in the region.
The first e-Trade for Women masterclass in the world was held in our country in October last year.