Skopje, 17th September 2014 (MIA) – For the time being, the favourable reaction by citizens as regards the measure for writing off the debts is exceptionally great and as of Yesterday inclusive, more than 29,000 applications were submittedin the centers for social work throughout the Republic of Macedonia.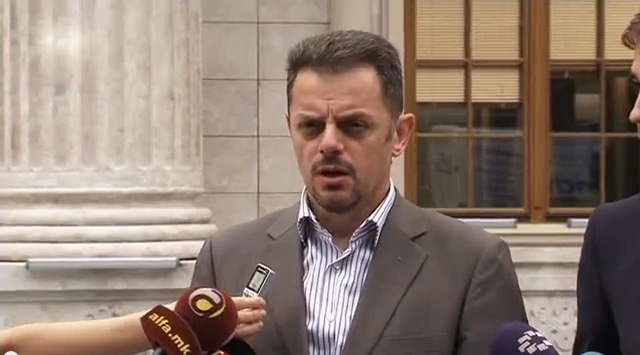 This was announced by Deputy Prime Minister and Minister of Finance, Zoran Stavreski, appealing to citizens not to wait for the last day and to visit the centers for social work as soon as possible so as to submit application and use this Government's measure.
First decisions, as Deputy Prime Minister said, are expected to be extended in the second half of October, after the deadline for submitting the applications ends. In the period to come, as he explained, the Commissions should provide the required documents ex officio, in addition to the documents submitted by citizens, and they should also check the data.
Most applications, as Minister of Labour and Social Policy Dime Spasov said, were submitted in Skopje, i.e. over 8,800 applications, followed by Kumanovo with more than 4,000 applications, and than Prilep, Tetovo, Gostivar and Strumica with 1,500 to 2,500 submitted applications.
He appealed to the citizens to submit the applications completely, i.e. to indicate the type of category in which they belong, as well as the type of debt they require to be written off.
What was a deficiency in the so-far procedure was the fact that the citizens have not indicated the type of category in which they belong, as well as the type of debt they require to be written off, probably because they were not sufficiently informed. I encourage them to complete their requests. We returned some of the applications submitted in the centers for social work, for their suppletion, Spasov said.
He added that it is still early to say which category has the most numerous applications and to which type of debt they refer, however, he expects for most of the applications to be submitted by the beneficiaries of social assistance. Complete data will be announced after making the final analysis.
Submission of applications for writing off the debts started on 18th August, and the 13th October, at 4:30 pm, is the deadline. Debts incurred as of 31st December 2013 inclusive will be written off, all on the basis of consumed electricity, thermal energy, credit cards, overdrafts of transaction accounts and consumer credits, as well as debts on the basis of broadcasting fee.
The measure includes unpaid debts for more than one year, and collection procedure should be initiated therefore.
Applications may be submitted by beneficiaries of social assistance, unemployed persons, and persons having death or disability in the family, due to which they were not able to settle their liabilities.
Оваа вест е достапна и на: