25th January 2021, Skopje – This year, the citizens may apply for a subsidy for a housing loan from the state through the "Buy a House, Buy a Flat" Project of the Ministry of Finance. Public call was announced and the citizens may submit an application, by 31st December 2021 inclusive, for subsidy for participation or subsidy for monthly installment for buying a flat or a house.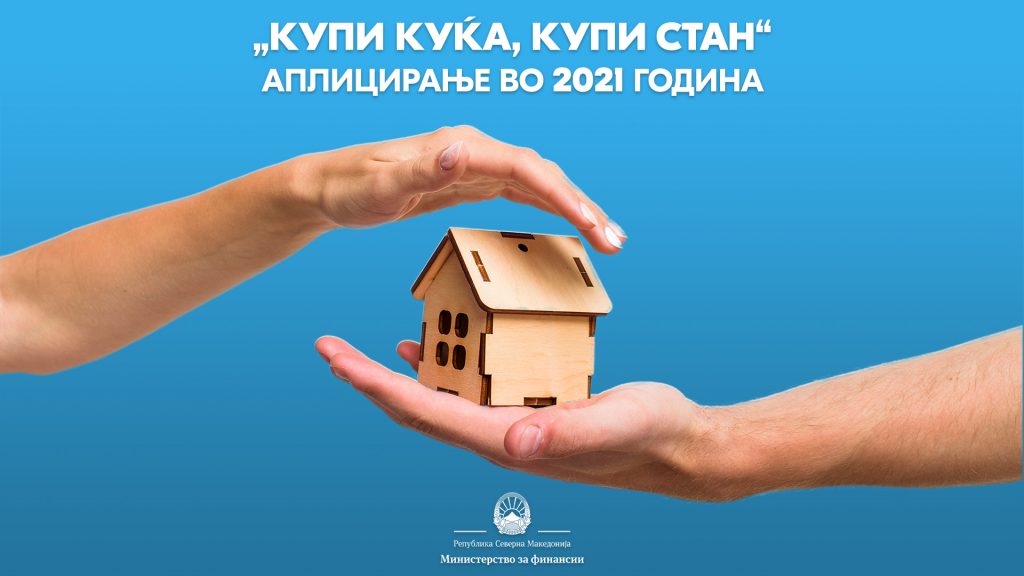 The subsidy is approved for a housing loan in the amount of up to EUR 50,000, the repayment period of which is not shorter than 20 years, and the subsidy may be up to EUR 20,000 according to the selected subsidizing model and the loan amount. Depending on the selected model, the subsidized period may be even up to 11 years.
The citizens may apply for 6 different models, offering various advantages, according to whether you want to apply for subsidy for monthly loan installment or subsidy for participation depending on whether you apply for buying a flat or a house and depending on the applicant's age. Rulebook published on the Ministry of Finance website provides more details on the models.
Interest rate on the housing loan under the Project is also exceptionally favourable. As regards models subsidizing the monthly installment, interest rate is 2.9% for the first 3 years and 3.9% for the fourth and the fifth year. With respect to the models subsidizing the participation, the interest rate is fixed throughout the entire repayment period, accounting for 4% plus 6-month Euribor.
Additional advantage the Projects ensures for the beneficiaries is that they will be extended additional one-year subsidy for the monthly installment up to 30% for each newly born or adopted child.
Persons married or not, who meet the following requirements: not possessing a flat or a house on their name or on the name of their spouse, monthly income not exceeding EUR 900 if not married or EUR 1,300 if married, selling price of the flat not to exceed EUR 900 per square meter and the flat or the house to be bought or built has to be new construction, i.e. to be bought from an investor or a contractor, may apply for the Project. Flat surface area may not exceed 150 m2.
All interested citizens who meet the requirements and are creditworthy according to the banks' requirements may apply in one of the eight banks participating in the Project: NLB Tutunska Banka, Stopanska Banka – Skopje, Sparkasse Banka, Stopanska Banka – Bitola, Silk Road Banka, TTK Banka, Ohirdska Banka and ProCredit Banka.
Total of 278 applications for subsidized housing loan were approved last year, 259 out of which for buying a new flat and 19 for building a house. So far, since the Project was launched, 1,693 applications for buying a flat or a house were approved, or almost 1,700 citizens or families resolved their housing issue through the Project.