22nd April 2022, Washington – The USA supports the fast integration of the Republic of North Macedonia to the EU, whereby, as NATO allies, both countries will work on joint projects, being of great relevance for strengthening the mutual cooperation.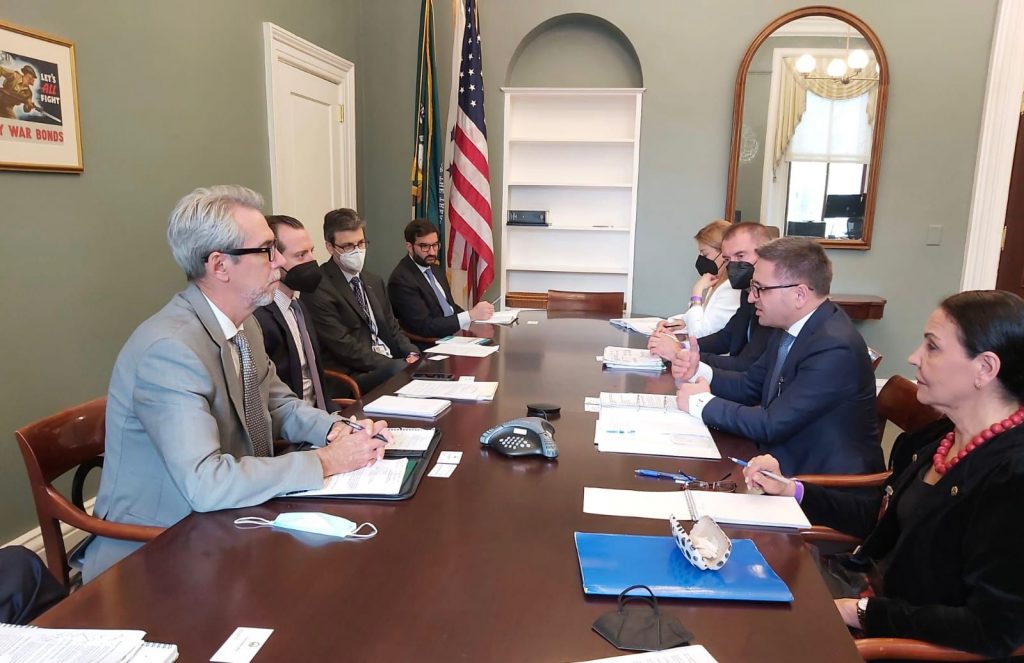 At the same time, the U.S. Department of Treasury will, through the Office of Technical Assistance (OTA), offer technical assistance aimed at enhancing public finance management, efficiency, transparency, accountability.
These were the conclusions at the meeting between Minister of Finance, Fatmir Besimi and Brian McCuauley, Acting Deputy Assistant Secretary for Europe and Eurasia, Brent Neiman, Deputy under Secretary at the U.S. Department of the Treasury and William Larry McDonald, Deputy Assistance Secretary for Technical Assistant Policy at the U.S. Department of the Treasury.
During the meeting, Besimi pointed out that unblocking of the integration process will have a positive impact on the overall stability and the development of the region. Thereby, the active engagement of the United States about this issue would be of crucial significance. At the same time, topics being discussed pertained to the possibility for deepening the economic cooperation and the realization of new projects, which would be implemented in cooperation with USAID and the US Embassy to North Macedonia.
Both parties agreed that what is of crucial importance at the moment is resolving the energy crisis and preserving the price stability as key factors in providing macroeconomic and financial stability.
Under the IMF and WB Spring Meetings, Minister Besimi previously also met Gabriel Escobar, US Deputy Assistant Secretary of State for European Affairs and Special Representative to the Western Balkans.