14th October 2022, Skopje – Republic of North Macedonia receives significant support from the international financial institutions in implementing its priorities. European Bank for Reconstruction and Development is among the major supporters of the priority projects for infrastructure connection, environment protection and energy independence the country implements. The Bank's support to the country has reached EUR 2.5 billion so far, mostly for public projects.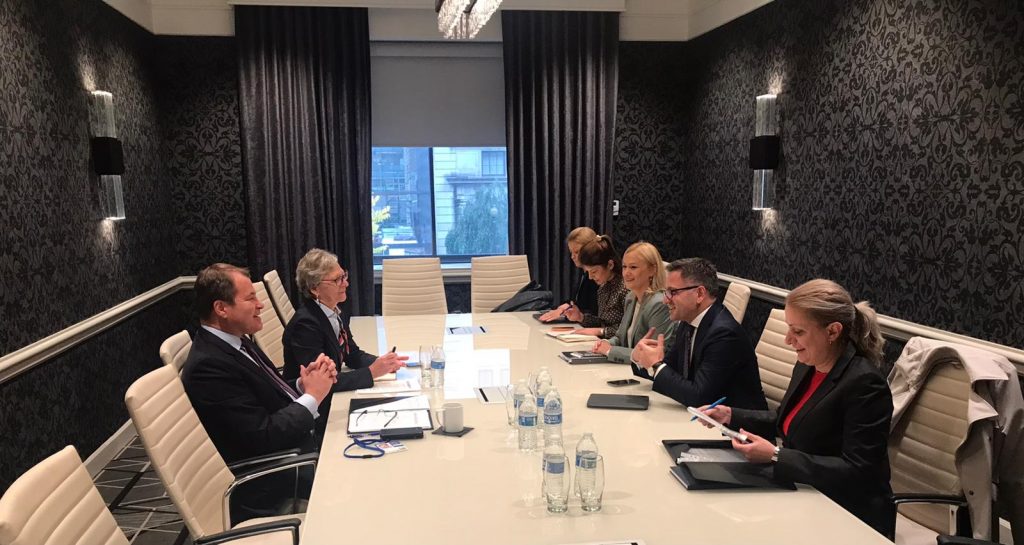 Continuing support of priority projects and continued cooperation between the Government of North Macedonia and EBRD were the topics discussed at today's meeting in Washington between the Minister of Finance, Fatmir Besimi, and EBRD's First Vice President, Jürgen Rigterink, and EBRD's Managing Director for Central and South Eastern Europe, Charlotte Ruhe.
During the meeting, EBRD pointed out that, at the beginning of 2023, the Bank is expected to officially approve EUR 16 million to co-finance the Greece – North Macedonia Interconnector Project. Thus, financial close is provided for the implementation of this significant energy diversification project. As regards the Project implementation, funds in the amount of EUR 25 million are provided from EIB, with EUR 12 million WBIF grant. In addition, EBRD is expected to also provide funds for the construction of Sveti Nikole – Veles and Gostivar – Kichevo gas pipelines.
EBRD is the most active international financial institution in the country, with an active portfolio in public investments of more than EUR 800 million, most of which, more than EUR 500 million, in the transportation sector. Rail Corridor 8 towards Bulgaria and Kichevo – Bukojchani road section are part of the projects being implemented with the support of the EBRD. Moreover, in the coming period, Regional Solid Waste Project will be implemented with the support of EBRD, and the ESM Energy Crisis Liquidity Support loan is also expected to be approved, with the Law therefore be adopted by the Parliament.
Minister Besimi expressed gratitude for both EBRD's dedicated support in preparing and implementing the Government's priority projects and the expected further support to the efforts our country makes for aligning with the EU standards and raising the living standards and the quality of life of the citizens. This is clearly indicative of the properly set goals and the right course we take.
To that end, during the meeting, the Minister presented the Growth Acceleration Plan and the investment opportunities in projects together with the private sector, which will contribute to recovery and accelerated economic growth. In addition, he also underlined the efforts made in implementing the major capital projects.
EBRD has been operational in the country since 1993, investing in 165 projects to date.
Priority projects, investment opportunities and energy crisis were the topics discussed at the meeting of the Minister of Finance with the representatives of the International Financial Corporation – IFC.
The meetings were held within the IMF/WB Annual Meetings in Washington, with the Minister of Finance taking part.