EBRD €70 mn loan under Green City Action Plan to improve urban transport and cut air pollution
Skopje introduces first 'Bus Rapid Transit' system in Western Balkans
EBRD loan of up to €70 million under Green City Action Plan
New energy-efficient buses to provide better and cleaner service
21st April 2021, Skopje – Skopje, one of the most polluted cities in Europe, will become the first city in the Western Balkans to introduce a Bus Rapid Transit (BRT) system, thanks to a loan of up to €70 million from the European Bank for Reconstruction and Development (EBRD). This will support a major transformation towards sustainable transport and address urgent environmental needs in the capital of North Macedonia.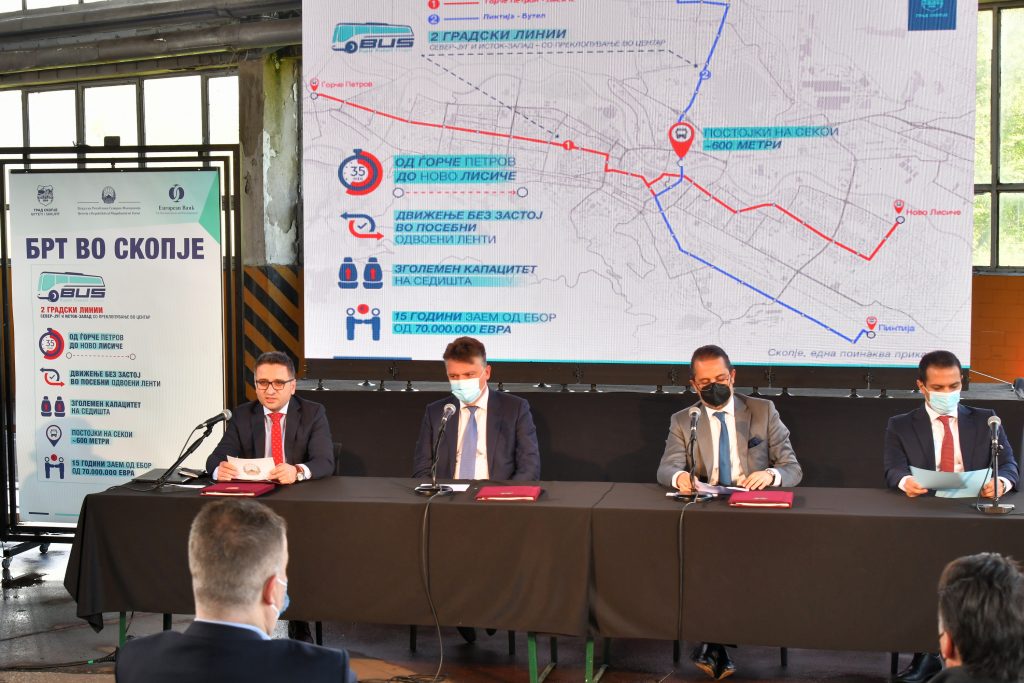 The new urban transport system will see the creation of priority bus lanes to be serviced by a fleet of energy-efficient or hybrid buses delivering fast, comfortable and cost-effective public transport. Innovative components such as off-board fare collection, e-ticketing and dynamic service regulation will lift service quality to new levels. Passengers will benefit from fast and frequent operations which they will be able to follow thanks to real-time information updates, demonstrating how Skopje is using smart concepts to improve services.
Meanwhile, the new system will also lead to significant reductions in the emissions of air pollutants of which transport is the main source in Skopje, a city of more than 550,000 residents. According to plans, the new BRT system envisages a reduction in emissions of carbon monoxide by more than 95 per cent, particulate matter by approximately 90 per cent and both nitrogen oxide and carbon dioxide by at least 25 per cent.
The project is the third in Skopje under EBRD Green Cities, an innovative programme to support sustainable urban development which the capital of North Macedonia joined in 2019. Together, the Bank and the city authorities developed a comprehensive Green City Action Plan which identified emissions from urban transport as a priority to address. Investments such as the new BRT system are being delivered in accordance with this action plan.
At the signing of the project, Fatmir Besimi, Minister of Finance of North Macedonia, said: "When the initiative for creating a green, more inclusive and sustainable economy overlaps with striving for economic recovery from the Covid-19 crisis, the gains for our economy are multiple. This year and in years to come, we will invest in projects that will contribute towards protecting the environment, alleviating transport congestion, saving time and energy resources, enabling investments and new jobs and facilitating growth as well as improving our citizens' quality of life. I support the green transition. Current and future generations should and must have a possibility to breathe cleaner air and travel faster and safer."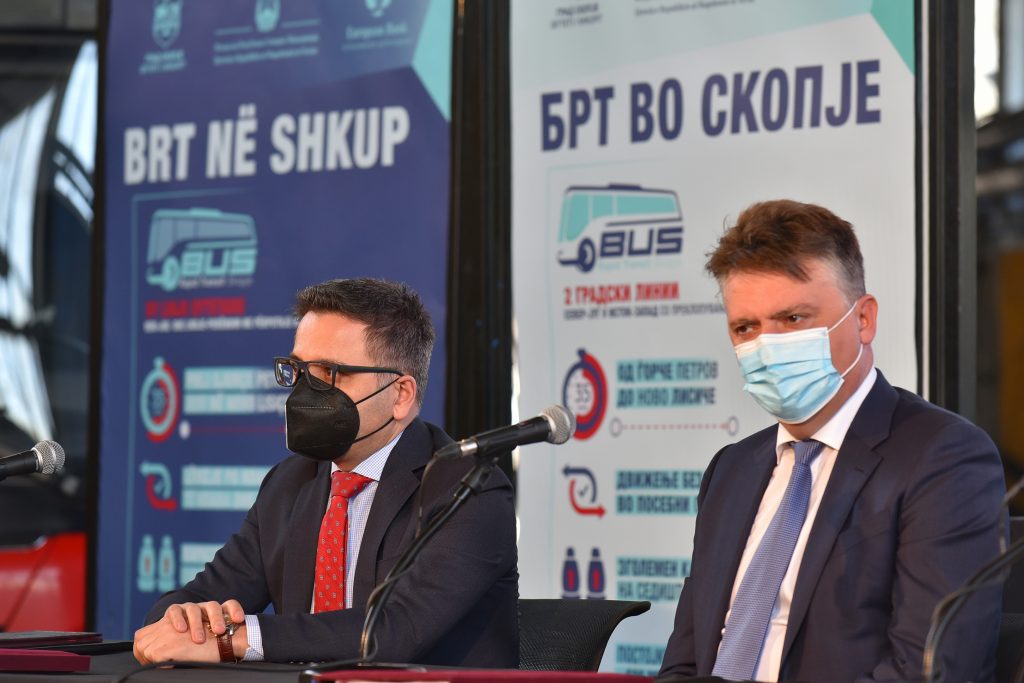 Blagoj Bocvarski, Minister of Transport and Communication, added: "The ultimate goal of the project is to provide new city transport in Skopje through an efficient and economic transport network. The introduction of environmentally friendly buses will lower air pollution and provide fast, safe and quality transport. Our role is to provide modern infrastructure and services through which this concept of rapid transport will improve our citizens' quality of life."
Andi Aranitasi, EBRD Head of North Macedonia, stated: "We are very pleased to announce this major step in the overhaul of transport in Skopje today, which is very much part of our EBRD Green Cities agenda. The project will support the city's efforts in tackling urban transport challenges through the preparation and implementation of a sustainable urban mobility plan. Improvements in public transport will help increase ridership and reduce the use of private cars. Tackling air pollution in Skopje is a priority and we welcome the authorities' commitment to decisive and swift action, which the EBRD stands ready to fully support as demonstrated by today's signing."
Petre Silegov, Mayor of Skopje, said: "We are proud that Skopje is one of the EBRD Green Cities and the first city in the Western Balkans to introduce BRT. For the citizens of Skopje, this is a dream coming true after 40 years. We are now getting a better transport system in line with our needs. We are getting fast, safe and sustainable public transport, which will be attractive and facilitate a reduction in traffic jams and air pollution."
The EBRD is a major institutional investor in North Macedonia. To date, it has invested €2.13 billion through 142 projects in the country. The Bank focuses on the expansion of the local private sector, the promotion of regional and international integration and the sustainable use of resources in the country.