21st April 2021, Skopje – In times when we face the biggest economic crisis in the past decade, what is especially important for economy recovering is to create synergy, i.e. to invest in "green projects" having a positive effect on both the economic development and the environment, Minister of Finance, Fatmir Besimi, pointed out on Wednesday, who together with the EBRD Head of North Macedonia, Andi Aranitasi, and the Mayor of the City of Skopje, Shilegov, signed the Loan Agreement for the Bus Rapid Transport Project, amounting to EUR 70 million. Minister of Transport and Communications, Blagoj Bochvarski, also attended the signing ceremony.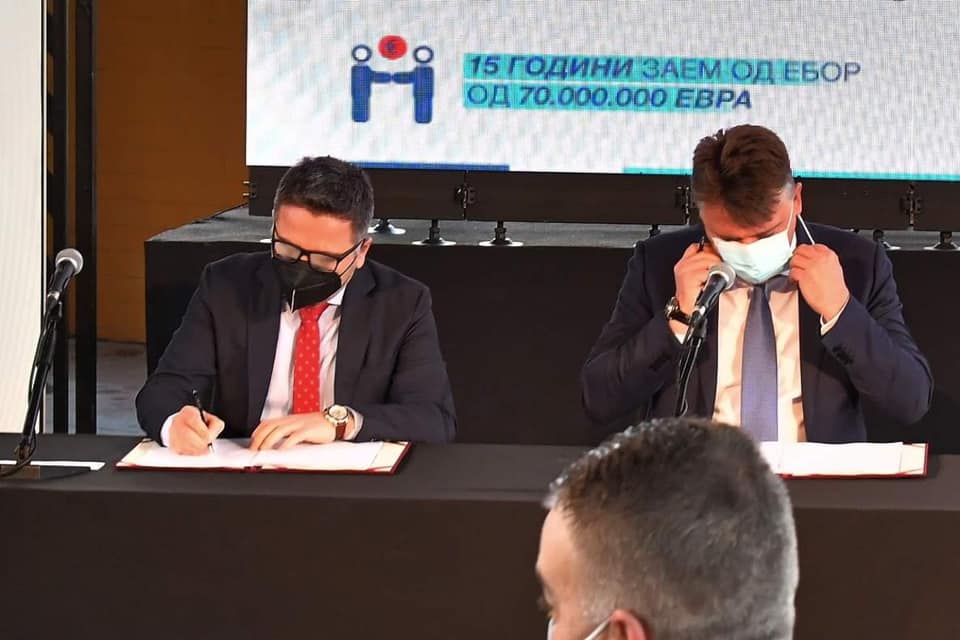 – When the initiatives for creating a "green", more inclusive and sustainable economy coincide with the efforts for economic recovery from the Covid-19 crisis, the benefits for our economy are manifold. This year and in the years to come, we will invest in projects that will contribute towards protecting the environment, alleviating transport congestion, saving time and energy resources, enabling investment growth and job creation, as well as improving our citizens' quality of life. As a Minister of Finance, I support the international cooperation promoting the so-called "green transition", with this Project being a part of that broader plan. Present and future generations should and must be given the opportunity to breathe cleaner air and travel faster and safer, Besimi said.
The Project includes introducing two bus lines and creating road corridors reserved for the buses only, those being the following: Gjorce Petrov – Novo Lisiche bus line and Butel – Kisela Voda bus line. Gjorche Petrov – Novo Lisiche route will be 12.80 km long in one direction, with 21 bus stops, two terminals in the industrial zone in Gjorche Petrov and Novo Lisiche settlement, where the new terminal will be built.
According to the initial assessment, total number of passengers to use this route is around 65.000 people annually. By implementing the first phase, current 70 minutes travel time is expected to be reduced by more than 50%.
EBRD loan totaling EUR 70 million will be disbursed in two tranches. The first tranche, amounting to EUR 47.6 million, is for financing bus line 1, connecting the eastern and the western part, while the second one, amounting to EUR 22.4 million, is for financing bus line 2, connecting the southern and the northern part of the city.