1st February 2022, Skopje – Republic of North Macedonia and Republic of Bulgaria share same goals – economic growth and better living standard. Joint activities already set at the first meeting held in Sofia and the specific steps agreed today at the first meeting of the Working Group on Economy, Trade and Innovations, which the relevant institutions will work on in the coming period, will contribute to attaining the respective goals.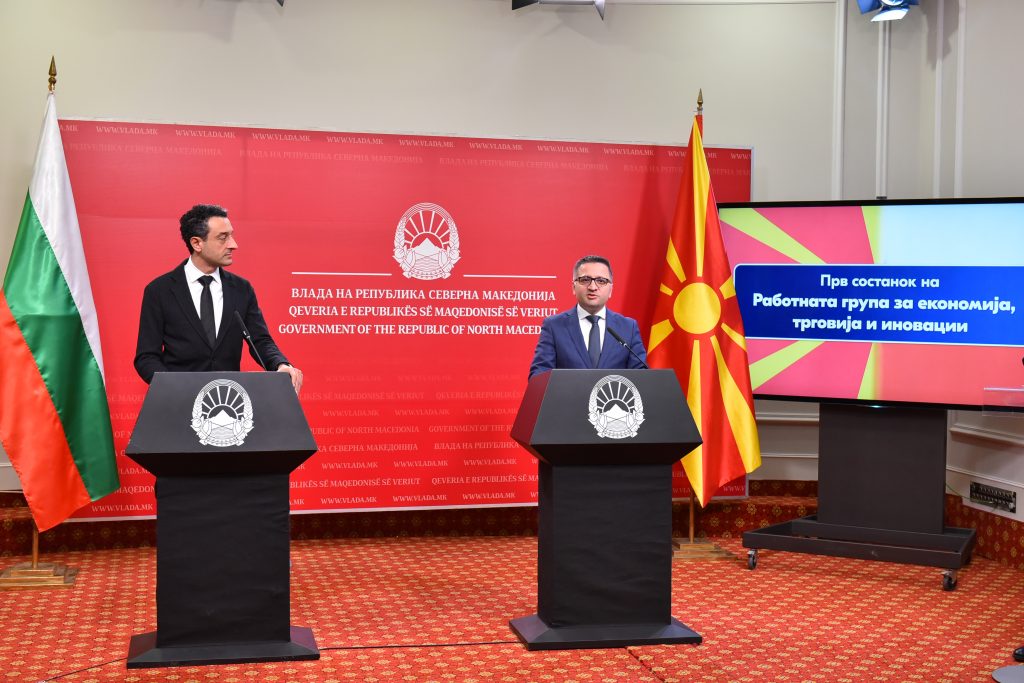 This is the conclusion reached by the Minister of Finance, Fatmir Besimi, and the Minister of Innovations and Growth, Daniel Lorer, who co-chaired the first meeting of the Working Group on Economy, Trade and Innovations held today.
We had a possibility today to discuss important topics reflecting our commitment to enhancing the economic cooperation. Innovations, investments, support to entrepreneurship, technological development, as well as development of innovation instruments were the topics discussed at today's meeting, Minister of Finance, Fatmir Besimi, said.
Both parties will make maximum efforts to attaining the set goal, which is strengthening the economic cooperation.
Establishment and functioning of the Working Group has already become a reality, we will commit to translate the shared ideas into specific projects to provide for development, growth and better standard of the citizens, Minister Besimi pointed out.
He and Minister Lorer pointed out that specific agreement has been reached on establishment of a mechanism for protection of investors from both countries.
An exceptionally important issue we have underpinned is the investment protection mechanism. Within such mechanism, each Bulgarian investor in North Macedonia and each Macedonian investor in Bulgaria will have a possibility to signal the highest-level officials of even the slightest doubt of discrimination or unequal treatment by the local and the central level authorities, Lorer stated, pointing out that the goal of such mechanism is to ensure undisrupted operations of each investor on both sides of the border.
During the meeting, conclusion has also been reached to establish close cooperation between the country's Fund for Innovation and Technological Development and Bulgarian Fund of Funds in the specific fields of project development and support to companies from both countries as regards innovations.
Several working groups have been established at today's meeting, which are to work on specific activities in the coming period.
As pointed out by Minister Besimi and Minister Lorer, the process is participatory and inclusive and, accordingly, the delegations will meet with the countries' Chambers of Commerce, which play an important role and will add value to all the activities being undertaken.
The Working Group on Economy, Trade and Innovations was established last week during the joint session of the Governments of North Macedonia and Bulgaria, when priorities and dynamics of holding the meetings were set and accordingly it will meet once a month.